Laredo Car Accident Attorney
Unfortunately, car accidents are a regular occurrence in and around the Laredo area, and they often leave individuals suffering from extensive injuries and property damage. At Nevárez Law Group, we are here to help if you need a Laredo car accident attorney by your side. We understand the challenges that individuals face when working to recover compensation for their losses from an at-fault party and aggressive insurance carriers. Let us stand up and fight on your behalf.
Laredo Car Accident Resources
Why Choose Nevárez Law Group for Your Laredo Car Accident Claim?
At Nevárez Law Group, our injury lawyers in Laredo are committed to making a difference. Our team has authored legal articles on injury and product liability claims, and we instruct other attorneys about how to litigate their cases and win.
Our law firm takes a client-centered approach to every car crash case that we handle, from a car crash to truck accidents to workplace injuries, which means that we take the time to listen to every person's goals and needs as we move forward with their claim.
Our greatest satisfaction as car accident lawyers is being able to tell clients that we have held the negligent party responsible for their injuries accountable for their actions.
Do You Need A Laredo Car Accident Attorney?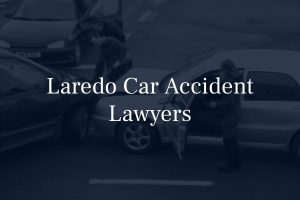 Insurance carriers are known for putting up significant challenges to paying out full compensation to injury victims. However, when a car accident lawyer in Laredo gets involved in the case, they will use their resources to uncover any evidence needed to prove liability in your car accident case including:
Police or accident reports
Statements from eyewitnesses
Video surveillance from nearby cameras
Photographic evidence from the auto accident scene
Vehicle "black box" and mobile device data
Laredo car accident lawyers will also ensure that their client is evaluated by a trusted medical professional who can help calculate all medical expenses and engage in negotiations with insurance carriers to recover full compensation.
What Are Some Car Accident Statistics in Laredo?
Information presented by the Texas Department of Transportation indicates that there were more than 4,401 total vehicle accidents across Laredo during the latest reporting year. Unfortunately, 11 individuals lost their lives as a result of traffic collisions that year. Additionally, during that same reporting timeframe, there were:
51 suspected serious injuries
571 non-incapacitating injuries
1,010 possible accident injuries
What Are The Most Common Causes of Car Accidents In Laredo?
If we look at the contributing factors for all accident cases across the state of Texas, we can see recurring patterns. Some of the most common causes of auto accidents include:
Unsafe lane changes
Speeding or driving too fast for the conditions
Distracted driving
Failing to drive in a single lane (swerving)
Following other drivers too closely
Failing to yield the right of way
Driving on slick or defective tires
Other equipment malfunction
This is certainly not a complete list of how driving accidents happened across Laredo. These cases boil down to determining fault, and there may be incidents where multiple factors contribute to a single accident. In some cases, more than one driver may share fault for the incident. If you were in an accident involving an intoxicated driver, reach out to our Laredo drunk driving accident lawyers for a free case evaluation today.
What Types of Compensation Do We Help Clients Secure?
Our personal injury attorneys work diligently to recover full compensation on behalf of our injury cases. In a car accident claim, this can include a range of economic and non-economic types of losses.
Some of the most common types of economic losses that our legal team helps clients recover and their loved one's compensation for include:
Current medical expenses arising due to the crash
All future expected medical bills
The cost of any physical therapy or rehabilitation
Prescription medications and medical devices
Property damage expenses
Lost wages if a victim cannot work
In addition to these economic expenses, we also understand that there is a range of non-economic losses associated with your legal options. This can include, but is not limited to, the following:
Physical pain and suffering damages
Emotional and psychological distress
Loss of enjoyment of life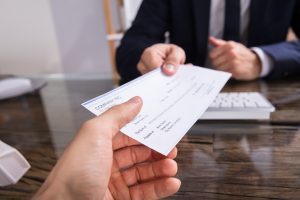 There is no set amount of money paid to car accident victims in Laredo. Rather, there are many factors that can affect the total amount of compensation a person receives. Some of these factors include the severity of the injuries and the property damage involved. Other factors that can affect compensation amounts include whether or not a person can work while they recover, whether or not an individual has to hire someone to help them with everyday tasks, and the level of pain and suffering that can be documented.
If an individual sustains a disability as a result of a car accident, their total expenses will likely rise significantly because we will have to look at long-term expense replacement. Our team works with trusted economic experts who can help properly calculate all of these losses.
What Are The Most Common Car Accident Injuries?
Vehicle accidents can lead to a wide range of injuries for those involved. The severity of injuries depends on a range of factors, including the type of vehicle accident that occurs, the speed of the vehicles involved, and other factors such as seat belt usage, airbag deployment, and the make and model of the vehicle. However, even a relatively low-speed vehicle accident can still lead to significant injuries for drivers inside. Just ask our brain injury lawyers in Laredo. 
Some of the most common injuries that we help clients with after a vehicle accident in Laredo include the following:
Whiplash

Concussions

Spinal cord injuries with paralysis

Lacerations and bleeding

Internal organ damage

Crush injuries and amputations

Broken or dislocated bones
However, we are well aware that visible traumatic injuries are not the only type of trauma that individuals sustain in vehicle accidents. Our accident lawyers, including our Laredo motorcycle accident attorneys, regularly help clients who suffer from a range of "unseen" emotional and psychological trauma caused by vehicle accidents. This can include prolonged feelings of stress, anxiety, sleeplessness, and fear. Additionally, many vehicle accident victims suffer from post-traumatic stress disorder (PTSD), which can affect their everyday lives.
Plus, if a death occurs as a result of the accident, please reach out to our Laredo wrongful death lawyers. 
Different Types Of Car Accidents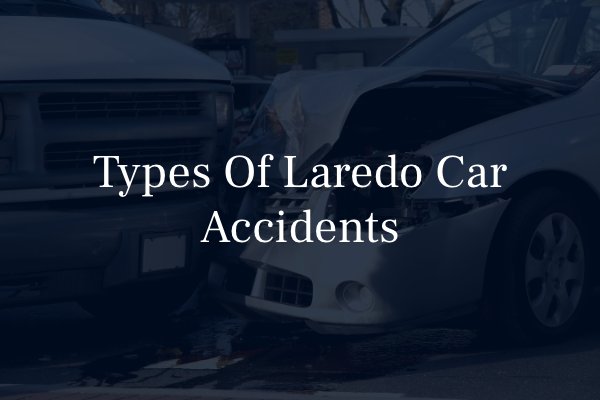 There are a variety of different types of vehicle accidents that can affect individuals in and around the Laredo area. Here, we want to review the most common types of claims that we help clients with.
Rear-End Accidents
Rear-end collisions are one of the most common types of auto accidents that occur in Texas, and they often occur because one driver is following another vehicle too closely. If a motorist does not leave enough space between themselves and the vehicle in front of them, this increases the chance that a rear-end collision will occur if the front vehicle has to stop suddenly. Additionally, drowsy driving, impaired driving, and distracted driving are all contributors to rear-end collisions.
Head-On Collisions
Head-on collisions are amongst the most catastrophic types of incidents that can occur, and they often happen when two vehicles are traveling at higher rates of speed. Some of the most common causes of head-on collisions are drivers going down the wrong side of the roadway, which can occur due to driver fatigue, distraction, or impairment.
Rollover Accidents
Some vehicles are more likely to roll over than others, particularly pickup trucks and SUVs, because they have a higher center of gravity. However, any accident that occurs at higher speeds could result in a rollover collision. Rollover incidents significantly increase the chance that drivers and passengers will experience severe injuries, and those inside run the risk of being thrown out of the vehicle and depending on the speed and severity of the crash.
Side-Impact Collisions
Side impact collisions are also referred to as T-bone collisions due to the fact that the vehicles often form a "T" shape when the collision occurs. Side impact collisions are especially dangerous for those in the vehicle that is struck on the side. The sides of vehicles have less impact-resistant material to absorb the collision, much less than is available for front and rear impact collisions. These incidents are often caused by other drivers failing to yield or failing to obey traffic signs or signals.
Sideswipe Accidents
Sideswipe accidents occur when two or more vehicles are traveling next to one another in the same direction, but one vehicle strikes the other side of the car. Often, this happens with both vehicles are going at relatively the same speed, but one driver fails to check their blind spots or use a turn signal when merging lanes or changing lanes.
Single-Vehicle Accidents
Single-vehicle accidents can occur due to the negligence of a driver or as a result of hazards on the roadway. When a single vehicle accident occurs, there will still need to be an investigation into the incident to determine liability.
Multi-Vehicle Accidents
It can be difficult to determine liability after a multi-car collision occurs. Determining liability is hard enough when there are two vehicles, but when three or more vehicles are involved, this presents particular challenges. In many cases, there is more than one driver at fault in a multi-car collision, which is where the Texas comparative negligence laws will become relevant. Fault will need to be apportioned out, and any person more than 50% responsible for the incident will not be able to recover compensation.
What if There is Shared Liability?
There will not always be one single party at fault for a car accident in Laredo. In some circumstances, two, three, or more parties could be held liable for an accident. In these situations, we will have to turn to the "modified comparative negligence" system in Texas to determine how compensation is doled out.
In this state, individuals can receive compensation for an accident even if they are partially at fault. However, there is a limit to this. Any person 51% or more responsible for an accident will be unable to recover compensation for their losses. Those less than 51% responsible for a crash can still recover partial compensation, though the total amount they receive will be reduced depending on their percentage of fault.
For example, if an individual sustains $100,000 worth of property damage and injury expenses, but a jury determines that they were 40% responsible for the collision, they would receive $60,000 instead of the full $100,000.
Liability is also tricky in regard to an accident involving semi-trucks. If this is your situation, please reach out to our Laredo truck accident lawyers today.
What If You Are In An Accident With An Uninsured Driver
Data available from the insurance information institute (III) indicates that approximately 8.3% of all drivers in Texas are uninsured. This presents significant problems on the roadway, particularly if an accident occurs. Here, we want to examine what you need to do if you are involved in an accident with an uninsured driver in Texas.
Check Your Insurance Policies for Uninsured Motorist Coverage
Do you know what types of coverage you have on your auto insurance policy? In general, every driver in the state will have the required insurance, which includes liability coverage and property damage coverage. However, uninsured and underinsured motorist coverage is not required under Texas law. Individuals are allowed to opt-out of this coverage if they let their insurance carrier know in writing.
If you are reading this article before any type of accident has occurred, we strongly encourage you to examine your policy and add uninsured motorist coverage if you do not have it. This type of coverage is not terribly expensive and is incredibly helpful in the event you are struck by an uninsured or hit-and-run driver in Texas.
If you have been involved in an accident with an uninsured or hit-and-run driver, you need to make sure the police come to the scene and document the incident. Do not let the other driver convince you to simply exchange contact information and drive away. You need a police report.
We encourage you to look at your policy and see whether or not you have uninsured motorist coverage. If you do, report the incident to your insurance carrier as you would any other type of accident. In reality, you need to report any incident to the insurance carrier right away, but if you have uninsured motorist coverage, they will be able to help you pay for your medical bills and property damage expenses.
Going After the Other Driver's Assets
If you do not have uninsured motorist coverage, another route towards recovering compensation for your losses could be filing a civil personal injury lawsuit against the at-fault driver. If the uninsured motorist stayed at the scene of the incident and you have all of their contact information, this is certainly an option open to you. However, even if your claim against an uninsured driver is successful, they may not have the assets needed to pay all of your expenses. There's a good chance that if a person cannot afford their insurance, they will not have the assets necessary to cover their losses. 
Do not let that deter you from exploring this option. We encourage you to speak to a skilled uninsured accident attorney in Texas who can walk you through this process and explain the benefits or negatives of filing a civil personal injury lawsuit.
Always Continue Medical Treatment
Even if you do not think you will be able to recover compensation from another party, we encourage you to continue all medical treatment related to your injuries caused by the uninsured motorist accident. It becomes incredibly difficult to recover compensation from insurance carriers or as a result of a personal injury lawsuit verdict if you fail to continue the medical treatment recommended by a doctor.
Continuing medical care not only helps ensure your well-being, but it also establishes a strong link between the incident, your injuries, and your continued recovery process.
Paying for a Laredo Car Accident Attorney
It is not uncommon for individuals to decide not to contact an attorney to help with their car accident in Laredo. This is understandable because most TV shows and movies make it seem impossible to afford a lawyer. However, at the Nevarez Law Group, we handle car crash claims on a contingency basis.
What this means is that you will not be responsible for paying any upfront or out-of-pocket costs related to your car accident in Laredo. We handle all of that for you and handle the insurance company. Additionally, you will not have to pay a dime and legal fees until after we successfully recover the compensation you need to get through this. If we do not win your case, you will not pay anything at all. We work on this contingency fee arrangement because we believe that anyone, regardless of their personal financial status, should be able to hold at-fault parties accountable.
What To Do After A Car Accident In Laredo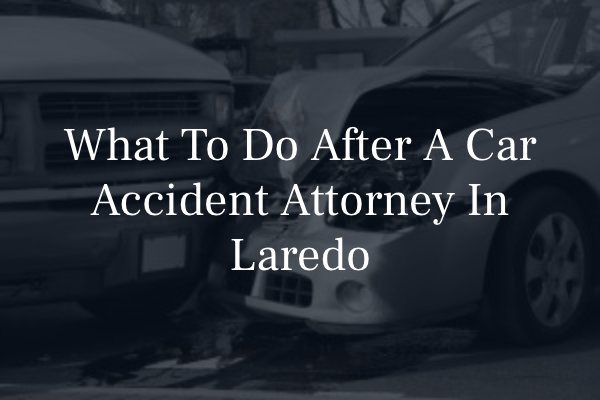 If you have been injured or sustained property damage in a car accident in Laredo or the surrounding areas, there are various steps you can take to ensure you recover the compensation you are entitled to. Some of these steps will need to happen on the day of the accident, while others will take place in the days and weeks following the incident. 
Check for Injuries
Right after a vehicle accident occurs, it is important to check for any traumatic or immediately apparent injuries. This includes injuries to yourself and your passengers. If possible, you can check others involved to see if they have sustained injuries.
Report the Incident
You need to call 911 and report the incident to the dispatcher. Do not assume that someone else involved in the accident or a bystander called 911. You need to do it yourself. Tell the dispatcher the situation with injuries and where the incident has occurred. Even if the incident seems relatively minor, the police need to come to the scene to conduct an investigation of the incident.
Go to the Doctor
All car accident victims in Laredo need to go to the doctor as soon as possible. If injuries are severe, this means taking an ambulance to the emergency room. However, even if a person does not think they have sustained severe injuries, we strongly encourage them to go to the doctor for an evaluation. Not only will this help any insurance claim that eventually arises, but there are often hidden injuries that individuals do not know about right after a collision.
Gather Evidence
Only if the scene is safe should individuals begin to gather evidence that could help an insurance claim. This could be as simple as using a phone camera to take pictures of everything, including damage, debris, injuries, license plate numbers, traffic or weather conditions, and more. Another important aspect is gathering the names and contact information of any eyewitnesses, including drivers and passengers and other cars that may have stopped as well as bystanders nearby.
Call the Insurance Carrier
Individuals need to contact their personal insurance company very soon after the incident occurs, preferably on the same day, to report the incident. You do not have to go into much detail when making an initial insurance report, but the insurance company does need to know about the incident so the claims process can begin. Typically, initial incident reports can be made through an online portal or through an app on the phone.
Contact an Attorney
A Laredo car accident attorney should get involved quickly so they can preserve any evidence and conduct their own investigation into the incident. An attorney will take over all communication with other parties so crash victims can focus on recovering from their injuries.
Continue Medical Treatment
All crash victims in Laredo should continue medical treatment until their doctor says they have either fully recovered or recovered as much as possible. Discontinuing medical care could significantly jeopardize how much compensation a person receives.
Contact The Laredo Car Accident Attorneys Immediately
If you or somebody you love has sustained an injury or property damage caused by the negligence of another driver in the Laredo, Texas, area, let the team at Nevárez Law Group help you today. A personal injury attorney from our firm is sure to have a track record of success in recovering significant settlements and jury verdicts on behalf of crash victims throughout the state. We want to make sure that you recover total compensation for your losses. When you need the Laredo car accident attorneys, you can contact us for a free consultation of your case by clicking here or calling us at (830) 776-7003.
NEIGHBORHOODS IN LAREDO, TX WE SERVE
Las Cruces, Colonia Los Obispos , El Cuatro , El Tonto, El Trompe, Ponderosa Hills , Canta Ranas , Siete Viejo , Dellwood Park , Chacon, Regency Park, J.S.J. Estates , Crown Ridge, San Jose, Woodlands, Towne East, Creekside, Cielito Lindo, Colonia Los Obispos, Las Lomas, Las Polkas, Los Amores, La Ladrillera, El Trece , Chaparral Village, Vista Hermosa, Santa Rita, Santa Fe, Sierra Vista, George Washington, Concord Hills, and more!