Laredo Motorcycle Accident Attorney
Individuals who sustain injuries or property damage in motorcycle accidents regularly struggle to recover the compensation they are entitled to. At Nevárez Law Group, we are here to help if you need a Laredo motorcycle accident attorney by your side. If your accident was caused by the negligence of another driver, we will help recover total compensation for your losses. Let us handle the aggressive insurance carriers on your behalf.
Why Choose Nevárez Law Group for Your Motorcycle Accident Claim in Laredo?
At Nevárez Law Group, we have a track record of success to back up our claims. Our Laredo accident lawyers have recovered billions of dollars in compensation on behalf of injured clients in Texas and throughout the US.
Our law firm is fully staffed, which means that we are able to provide clients with the resources they need at any time while their case is ongoing.
We handle Laredo motorcycle accident claims on a contingency fee basis. This means that clients will pay us nothing until after we successfully recover the compensation they need.
Do You Need an Attorney for a Laredo Motorcycle Accident Case?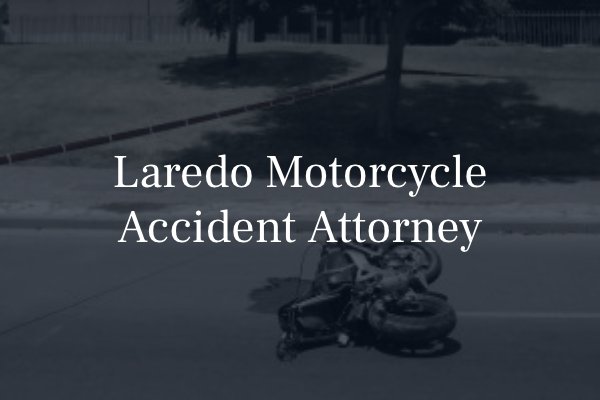 Motorcyclists typically face an uphill battle when it comes to going against the insurance carrier of the at-fault party. It is not uncommon for other parties to try and place blame for the incident on the motorcyclist, but a personal injury lawyer in Laredo will not let this happen.
An injury attorney in Laredo will use their resources to conduct a complete investigation into the case by uncovering all evidence needed to prove liability. After working with trusted medical and economic experts, an attorney will vigorously negotiate with insurance carriers to recover full compensation while also preparing the claim for trial if necessary.
What Are Some Common Injuries Following A Motorcycle Accident?
Motorcyclists are much more vulnerable to severe injuries than other motorists when an accident occurs. No matter how much protective gear a motorcyclist wears, they simply do not have much protection against the forces of a collision with another vehicle. 
Some of the most severe injuries motorcyclists could sustain include traumatic brain injuries, spinal cord injuries, internal trauma, and amputations. These injuries can be life-threatening, or they could lead to significant long-term disabilities. 
Other serious, but perhaps not as life-threatening, injuries that motorcyclists are vulnerable to include broken and dislocated bones, severe lacerations and road rash, concussions, whiplash, facial injuries, and more. 
Regardless of the initial severity of a motorcycle accident injury, it is crucial for crash victims to seek medical care immediately. Often, what seems like a relatively minor injury is much more severe. Some signs and symptoms are masked in those first couple of hours after a motorcycle crash occurs. This is certainly true for head injuries. Often, individuals may think they have only sustained a relatively minor concussion only to find out that there is a significant brain injury that could cause long-term damage if not treated immediately.
What Major Expenses Result From Motorcycle Accidents?
During the latest reporting year of data we have on file, we can see that there were 8,173 total motorcycle accidents across the state of Texas. Out of these incidents, 482 individuals lost their lives, and thousands more were injured. Those who do survive these incidents often sustain severe injuries that result in major medical expenses.
If a death was involved in your motorcycle accident, please call our wrongful death attorneys in Laredo today.
Our motorcycle accident attorneys in Laredo work diligently to recover compensation on behalf of crash victims. This includes both economic and non-economic losses, such as the following:
All current medical expenses
Expected future medical bills
Repair or replacement of the motorcycle
Help with household out-of-pocket expenses
Lost wages if a crash victim cannot work
Our car accident lawyers in Laredo also help motorcycle crash victims who have sustained emotional and psychological trauma as a result of the injuries and the incident.
Need-To-Know Motorcycle Laws in Texas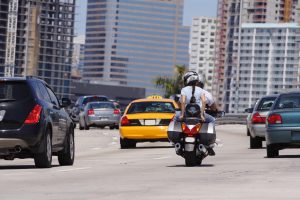 It is imperative that motorcyclists follow the laws of the roadway. In Texas, there are various laws that all motorcyclists, including drivers and passengers, need to be aware of before they go out and ride. 
Motorcycle helmet law

. All

motorcycle operators

in Texas are required to wear a helmet that meets the Federal Motor Vehicle Safety Standard #218 (FMVSS-218). Any person over the age of 21 can be exempt from wearing a helmet if they have completed a Department of Transportation approved Motorcycle Operator Training Course and are covered with at least $10,000 in medical insurance period proof of insurance is required.

Obtaining a motorcycle license

. Motorcycle operators in Texas must hold a valid motorcycle license, which is a Class M driver's license. This requirement applies to three-wheeled motorcycles as well as mopeds. In order to receive a motorcycle license, applicants are required to pass a written test that covers pertinent motorcycle laws as well as a road test. The road test can be waived if a person takes a Department of Public Safety-approved Basic Motorcycle Operator Training Course and has an unrestricted Class A, B, or C license.

Ride after drinking alcohol

. Operating a motorcycle while impaired by alcohol is illegal in the state of Texas. Just like operating a regular motor vehicle, the acceptable blood alcohol concentration is .08%. If a person operates a motorcycle at or above this BAC level, they will be arrested for DUI. Additionally, Texas is a zero-tolerance state when it comes to minors operating vehicles under the influence of any detectable amount of alcohol.

Lane Splitting

. The practice of lane splitting, or a motorcyclist riding down the center line between two lanes of traffic going in the same direction, is illegal. Even though there are arguable safety benefits, individuals who practice lane splitting in this state will be pulled over and cited for reckless driving.

Riding Side by Side

. Individuals in Texas are not allowed to ride their motorcycles two-abreast or side by side like they are in other states around the country. However, motorcyclists can ride in a staggered formation, and this is recommended by the American Motorcyclist Association.
Could You be Blamed for the Crash?
One of the common tactics used by at-fault party insurance carriers after a motorcycle accident occurs is to blame the motorcyclist for the incident. These other parties think that by shifting some or all of the blame onto the motorcyclist that they will be able to avoid paying as much compensation as they should.
It is true that Texas operates under a modified comparative negligence system. This means that individuals are unable to recover compensation if they are more than 50% responsible for their own injuries. Additionally, if a person is less than 50% responsible, they can recover compensation for their injuries, but the total amount they receive will be reduced depending on their percentage of fault for the crash.
Any person facing allegations of shared fault for a motorcycle crash in Laredo should work with a skilled attorney who has experience handling these matters. An attorney will vigorously push back against allegations of shared fault to help their client recover full compensation.
Time Limit to File a Motorcycle Accident Claim in Laredo
Individuals in the state of Texas need to be aware that they have a limited amount of time to file a lawsuit in the event they are injured in an accident caused by another party. The Texas statute of limitations for personal injury claims is two years from the date an injury occurs. Failing to file a motorcycle accident claim within this two-year timeframe will likely result in the case being dismissed and the person becoming unable to recover compensation for their losses.
Additionally, any insurance carrier involved in the claim is going to have their own reporting deadline, typically within a day or two after the incident occurs. Take it from our Laredo truck accident attorneys, it is crucial to file a claim with the insurance carriers promptly, or they could put up a fight from having to pay out compensation.
Motorcycle Accident Statistics in Texas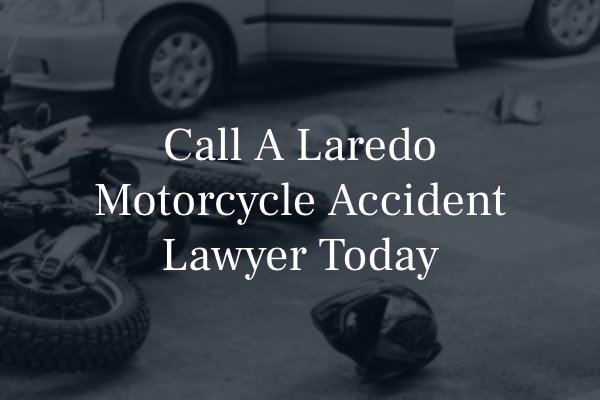 When we examine the information available from the Texas Department of Transportation, we can see that there were 545 total fatal motorcycle crashes across the state during the latest reporting year on file. Additionally, there were 2,275 total suspected serious injury crashes, more than 2,800 suspected minor injury crashes, and 1,435 total possible injury crashes.
When we look more closely at the data provided by the DOT, we can see that there are more fatalities and injuries that occur as a result of motorcycle crashes in urban areas as opposed to rural areas of the state. However, this does not necessarily mean that rural areas are safer for motorcyclists. It just means that the areas are less crowded, and this is where crashes are less likely to occur overall, not just for motorcyclists.
Contact a Laredo Motorcycle Accident Attorney Immediately
If you or a loved one had been injured in a motorcycle crash caused by the actions of another driver in the Laredo, Texas, area, the team at Nevárez Law Group is ready to step in and help you recover compensation for your losses. We understand how challenging it can be going up against aggressive insurance carriers. We also know that motorcyclists face significant unwarranted biases from other parties involved. Let us stand up on your behalf and help you recover compensation for your medical bills, lost wages, and pain and suffering damages. When you need a Laredo motorcycle accident attorney, you can contact us for a free consultation of your case by clicking here or calling us at (830) 776-7003.
NEIGHBORHOODS IN LAREDO, TX WE SERVE
Las Cruces, Colonia Los Obispos , El Cuatro , El Tonto, El Trompe, Ponderosa Hills , Canta Ranas , Siete Viejo , Dellwood Park , Chacon, Regency Park, J.S.J. Estates , Crown Ridge, San Jose, Woodlands, Towne East, Creekside, Cielito Lindo, Colonia Los Obispos, Las Lomas, Las Polkas, Los Amores, La Ladrillera, El Trece , Chaparral Village, Vista Hermosa, Santa Rita, Santa Fe, Sierra Vista, George Washington, Concord Hills, and more!