Laredo Oil Field Injury Attorney
Accidents that occur at oil fields in and around the Laredo area often result in severe injuries for workers. Unfortunately, these individuals can struggle to recover the compensation needed to make them whole. At Nevárez Law Group, our team is here to help if you need a Laredo oil field injury attorney by your side. We will use our resources to handle every aspect of this claim on your behalf so you can focus on recovering from your injuries.
Why Choose Nevárez Law Group for Your Oil Field Injury Claim?
At Nevárez Law Group, we are a firm that is not afraid to go to trial. We will go head-to-head with negligent companies to help ensure our clients recover maximum compensation.
We focus on providing a client-centered approach. This means that we give personal attention to every case, and every client will be treated like family.
We provide our Laredo personal injury clients with the resources necessary to litigate their cases and win. This includes financing, staff, technology, and legal talent.
Do You Need an Attorney for an Oil Field Accident Case?
Oil field injury cases can become incredibly challenging, such as with Laredo workplace injury cases, particularly when insurance carriers and legal teams get involved. However, when a skilled personal injury lawyer steps in on your behalf, you will have an advocate who can use their resources to handle every aspect of the case. This includes, but is not limited to, the following:
Gathering all evidence needed to prove liability
Digging into employer and third-party safety records
Handling all communication and negotiations with other parties involved
Working with trusted medical and economic experts who can help properly
calculate total expected losses
Filing the case in civil court and preparing the claim for trial
What Are Oil Field Accidents?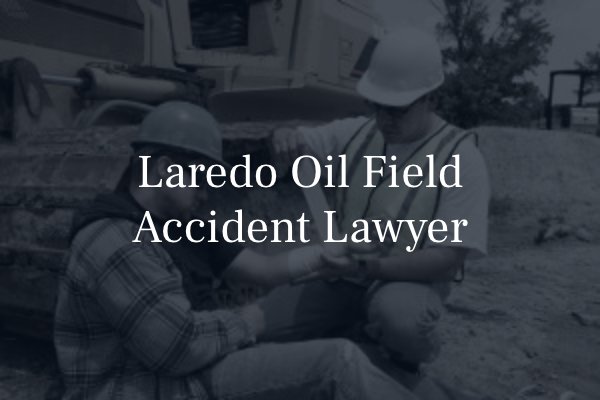 Our wrongful death lawyers in Laredo handle serious injury claims and other injuries resulting from oilfield accidents. The following situations provide examples of when oilfield accidents may occur:
Well blowouts
Falling equipment
Oil rig equipment failures
Unreasonably dangerous and defective oilfield products
Well-drilling and servicing procedures
Well-drilling or servicing
Oilfield accidents often result in catastrophic injuries due to the nature of the work and the heavy equipment involved, and sometimes, our brain injury lawyers in Laredo are needed to help with a case. Oilfield accident claims can become extremely complicated, however, we will work hard and aggressively pursue every responsible party to get you the compensation you deserve.
Oilfield drilling sites have proven to be extremely dangerous and rig accidents have increased dramatically in the past years. If you have suffered paralysis, burns, broken bones, a head injury, or electrocution due to an oilfield accident, call us for a free consultation.
What Are Some Injuries Caused by Oil Field Accidents in Texas?
Injuries that occur at oil fields in Texas are often incredibly severe. At Nevárez Law Group, our Laredo injury attorneys have extensive experience helping clients who have sustained the following:
Brain injuries
Open facial or head wounds
Spinal cord injuries with paralysis
Broken bones
Dislocated joints
Amputations or dismemberment
Crush injuries
Scarring and disfigurement
Internal organ damage
Major lacerations or puncture wounds
Our attorneys also recognize that oil field injury victims are likely to suffer from significant emotional and psychological trauma as a result of the accident and their injuries. That is why we work diligently to recover compensation for these unseen, yet very real, injuries.
What Types of Compensation Do We Help Clients Secure?
Our goal is to make sure that clients recover total compensation for their losses following an oil field accident in Laredo. This includes recovering both special (economic) and general (non-economic) damages. We will fight to recover the following:
All current medical bills related to the injury
Any expected future medical expenses that could arise
Coverage of physical therapy or rehabilitation expenses
The cost of medical devices or prescription meds
Compensation for temporary or permanent disability
Payment for household out-of-pocket expenses
Coverage of pain and suffering damages
Loss of quality of life damages
The total amount of compensation available to oil field accident victims in Laredo will vary depending on several factors. Some of these factors include the severity of the injuries, how long it takes to recover, the total amount of lost income, and whether or not there are any long-term disabilities that must be accounted for. Our attorneys will work with medical and economic experts to properly calculate all expected losses so that we can vigorously negotiate on your behalf.
Our team will also handle any allegations of shared fault, something our truck accident attorneys in Laredo are skilled in. In other words, if the other parties try to blame you for causing your own injuries, we will push back against these allegations and work to prove the liability of the other parties involved.
Who is Responsible for Paying Compensation for an Oil Field Accident?
There are often various parties responsible for paying compensation after an oil field accident in or around the Laredo area. Anytime an individual sustains a workplace injury in Laredo, the first place to turn to recover compensation is the workers' compensation system in Texas. This type of system is "no-fault," meaning that the injured worker will recover compensation regardless of who caused the injury.
However, there are times when an oil field worker sustains an injury caused by the actions of another party. In these cases, it may be possible to file a third-party personal injury lawsuit in order to recover additional types of compensation, including full coverage of medical bills, all lost wages, and even pain and suffering damages. Some of the most common third parties that could face lawsuits in these situations include:
Oil field equipment companies or manufacturers
Any contractors or subcontractors working in the area
Various regulatory agencies responsible for inspecting equipment and property
Maintenance companies that fail to repair equipment
How Can You Afford A Laredo Oil Field Lawyer?
We understand the difficulties that come with affording an attorney in these cases, which is why we handle oil field accident claims on a contingency fee basis. This means that our clients will not have to worry about paying any upfront or out-of-pocket costs related to their case. We handle the financial burden of the case, and our clients will pay it no legal fees until after we successfully recover the compensation they are entitled to. If we do not win, our clients do not pay.
Contact a Laredo Oil Field Accident Attorney Immediately
If you or somebody you care about has been injured in an oil field accident in Laredo or the surrounding areas, reach out to the team at Nevárez Law Group as soon as possible. Our Laredo accident lawyers have extensive experience handling complex injury claims throughout the state of Texas, and we can help you recover compensation from the oilfield company or any third party who may have caused the injury. When you need a Laredo oil field accident attorney, you can contact us for a free consultation of your case by clicking here or calling us at (830) 776-7003.
NEIGHBORHOODS IN LAREDO, TX WE SERVE
Las Cruces, Colonia Los Obispos , El Cuatro , El Tonto, El Trompe, Ponderosa Hills , Canta Ranas , Siete Viejo , Dellwood Park , Chacon, Regency Park, J.S.J. Estates , Crown Ridge, San Jose, Woodlands, Towne East, Creekside, Cielito Lindo, Colonia Los Obispos, Las Lomas, Las Polkas, Los Amores, La Ladrillera, El Trece , Chaparral Village, Vista Hermosa, Santa Rita, Santa Fe, Sierra Vista, George Washington, Concord Hills, and more!