Laredo Construction Accident Attorney
Individuals who work in construction have very important jobs. Unfortunately, this industry is also riskier than others. When construction workers sustain an injury, they should be able to recover compensation for their losses. At Nevárez Law Group, we are here to help if you need a Laredo construction accident attorney. Attorneys such as our truck accident lawyers in Laredo have extensive experience handling complex work injury claims, and we have no problem taking these cases all the way to trial if necessary to ensure that our clients are treated fairly.
Why Turn to Nevárez Law Group for Your Laredo Construction Accident Claim?
At Nevárez Law Group, we focus on complex personal injury claims in Laredo and throughout the US, and our team has an impressive track record of success.
We provide clients not only with the resources necessary to win their claim, but also with the staff, financing, technology, time, and talent brought by our attorneys.
We take Laredo construction accident cases on a contingency fee basis, which means that clients will not have to worry about paying any legal fees until after we recover the compensation they need.
Do You Need an Attorney for a Construction Accident Case in Laredo?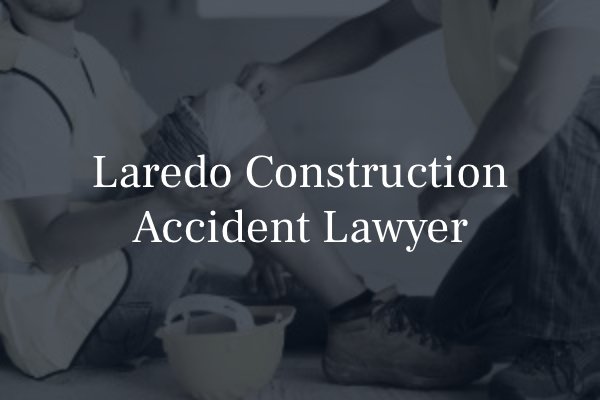 Construction accident lawyers can step in and handle these complex claims, particularly if third parties are involved or if the insurance carrier refuses to offer a fair settlement. A construction accident attorney in Laredo will use their resources to investigate the incident. This will include examining accident reports, accessible video surveillance, company safety records, and eyewitness statements.
Importantly, an injury lawyer in Laredo will determine whether there is a third-party claim and file a lawsuit in civil court. Moving forward, a lawyer will negotiate with all parties involved to recover fair compensation while also preparing the case for trial.
What Are Some Common Construction Accident Injuries?
Construction remains one of the most dangerous industries in the United States. In fact, one out of every five worker deaths across the country during the latest reporting year occurred in the construction industry, according to OSHA. Aside from fatalities, which our wrongful death attorneys in Laredo can help with, construction workers often sustain severe injuries as a result of a variety of types of incidents, including falls, equipment malfunction, improper training, unsafe scaffolding, and trench collapses.
Some of the most common injuries that we help clients with include:
Broken and dislocated bones
Traumatic brain injuries
Spinal cord injuries
Lacerations or puncture wounds
Crush injuries
Amputations
Internal bleeding
Severe contusions
What Are Some Less-Obvious Construction Injuries?
In addition to these visible traumatic injuries, construction workers also face significant risks from exposure. In some cases, this includes exposure to hazardous chemicals or elements in the environment that can lead to respiratory diseases, high blood pressure, cardiovascular diseases, and even occupational cancers. Construction workers are also more likely to suffer from hearing or vision loss as a result of workplace exposure.
Statistics indicate that workers between the ages of 25 and 34 are the most likely to be injured in a construction site accident. Construction accidents often result in head injuries, neck injuries, fractures, injuries requiring surgery, and death. If you have suffered a head injury in an accident, please reach out to our Laredo brain injury attorneys today.
Contact a Laredo Construction Accident Attorney Immediately
If you have sustained a construction accident injury and are struggling to recover the compensation you are entitled to, reach out to the team at Nevárez Law Group as soon as possible. We have the resources necessary to fully investigate work injury and third-party personal injury claims, and our goal is to make sure that you recover total compensation for your losses. We have no problem standing up to aggressive insurance carriers, and we will take your claim all the way to trial if necessary. When you need a Laredo construction accident attorney, you can contact us for a free consultation of your case by clicking here or calling us at (830) 776-7003.
The construction accident attorneys at Nevárez Law Group, PC. stand ready to help with all of your legal needs. Nevárez Law Group, PC. will compassionately and aggressively handle your construction accident case.
NEIGHBORHOODS IN LAREDO, TX WE SERVE
Las Cruces, Colonia Los Obispos , El Cuatro , El Tonto, El Trompe, Ponderosa Hills , Canta Ranas , Siete Viejo , Dellwood Park , Chacon, Regency Park, J.S.J. Estates , Crown Ridge, San Jose, Woodlands, Towne East, Creekside, Cielito Lindo, Colonia Los Obispos, Las Lomas, Las Polkas, Los Amores, La Ladrillera, El Trece , Chaparral Village, Vista Hermosa, Santa Rita, Santa Fe, Sierra Vista, George Washington, Concord Hills, and more!