Laredo Burn Injury Attorney
Burn injuries occur in a wide variety of ways in and around the Laredo area. At Nevárez Law Group, our team has a track record of success handling complex injury claims, and we are here to help if you need a Laredo burn injury attorney by your side. If the careless or negligent actions of another individual or entity caused your burn injuries, we will investigate the incident, determine liability, and fully represent you in court to recover the compensation you need.
Why Use A Laredo Burn Injury Lawyer From Nevárez Law Group?
At Nevárez Law Group, we are a trial firm devoted exclusively to representing those who have sustained severe injuries as a result of the wrongdoing of others.
Our Laredo personal injury lawyers work on the belief that every client deserves to have their case handled with integrity, personal attention, and flexibility.
We handle Laredo burn injury claims on a contingency fee basis. This means that clients will never have to worry about paying legal fees until after we recover the compensation they need.
Do You Need an Attorney for a Laredo Burn Injury Case?
Burn injury claims are notoriously complex, particularly when it comes to determining the liability of the other parties involved. A skilled burn injury lawyer in Laredo will conduct a complete investigation into the claim in order to uncover the proof needed to show the other party's negligence. While the claim is being investigated, a lawyer will ensure that their client is evaluated by a trusted medical professional.
After determining their client's total expected losses, an injury lawyer in Laredo will engage in negotiations with aggressive insurance carriers to help ensure they recover fair compensation for their losses. If the other side refuses a fair settlement, an attorney will file a personal injury lawsuit in civil court.
How Do Burn Injuries Occur?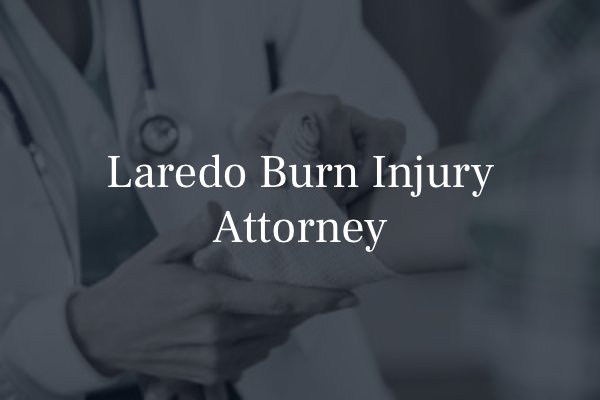 Information presented by the American Burn Association (ABA) shows that there are more than 450,000 serious burn injuries that occur each year across this country that require medical treatment. These burns occur in a wide variety of ways.
Burn injuries cause 300,000 deaths worldwide every year and affect the lives of millions who become disabled. Burns are the third leading cause of accidental death in the United States. About 4,000 Americans die of burn injuries every year. Children are particularly prone to these injuries and about half of burn patients are below 18. Elderly people are often at extra risk because they have other health problems that make living with burn injuries all the more difficult.
If you have experienced a loss of life due to burns, please reach out to our wrongful death attorneys in Laredo.
At Nevárez Law Group, our burn injury lawyers in Laredo have experience helping clients who have been injured as a result of:
Accidental fires
Intentional fires (arson)
Burns from hot beverages
Burns from hot foods
Hot metal or glass
Electrical burns
Chemical burns
Radiation burns
UV burns (often from malfunctioning tanning beds)
If your burn was suffered due to a car accident, please reach out to our Laredo accident lawyers today.
What Is Compensation Like for a Laredo Burn Injury Claim?
If a burn was caused by the negligence of another party, injury victims should be able to recover full compensation for their losses. This includes, but is not limited to, coverage of the following:
All medical bills associated with the burn injury
The cost of any surgical procedures needed
Coverage of any prescription medications (antibiotics, painkillers, etc.)
Lost income if a burn victim cannot work
Pain and suffering damages
Loss of enjoyment of life damages
Nevárez Law Group is able to help you to recover the maximum amount of compensation for your burn injuries. Whether the injury occurred in a motorcycle or car accident in Laredo, on the job, using an explosive or defective product, or is an electrical burn, our team ensures that your case will not only receive the attention and care it deserves. Also, you claim compensation for your damages from the individual or party responsible for your injury.
How Are Burn Injuries Diagnosed?
The severity of a burn depends on how hot the skin gets and how long the burn lasts. The location is also important because skin varies in thickness, water and oil content, the amount of subcutaneous fat, and the number of blood vessels from one location in the body to another. The diagnosis of a burn injury is based on how deep the injury is.
Contact a Laredo Burn Injury Attorney Today
If you or somebody you love has sustained a burn injury caused by the negligent actions of another individual or entity in the Laredo, Texas, area, reach out to the team at Nevárez Law Group today. We understand how challenging it can be to recover compensation for these injuries. We will use our resources to investigate the incident, determine liability, and help you recover total compensation for your losses. When you need a Laredo burn injury attorney, you can contact us for a free consultation of your case by clicking here or calling us at (830) 776-7003.
NEIGHBORHOODS IN LAREDO, TX WE SERVE
Las Cruces, Colonia Los Obispos , El Cuatro , El Tonto, El Trompe, Ponderosa Hills , Canta Ranas , Siete Viejo , Dellwood Park , Chacon, Regency Park, J.S.J. Estates , Crown Ridge, San Jose, Woodlands, Towne East, Creekside, Cielito Lindo, Colonia Los Obispos, Las Lomas, Las Polkas, Los Amores, La Ladrillera, El Trece , Chaparral Village, Vista Hermosa, Santa Rita, Santa Fe, Sierra Vista, George Washington, Concord Hills, and more!