Laredo Premises Liability Attorney
Property owners have a duty to ensure that their premises are free from known hazards. Unfortunately, there are times when individuals sustain injuries because of the careless or negligent actions of property owners and operators. At Nevárez Law Group, we are here to help if you need a Laredo premises liability attorney. Our team has the resources necessary to investigate every aspect of these claims and make sure that you are properly represented against insurance carriers and in court.
Why Choose Nevárez Law Group for Your Laredo Premises Liability Claim?
At Nevárez Law Group, our injury attorneys in Laredo provide our clients with the financing, staff, technology, and legal talent necessary to win their premises liability claims.
We take great satisfaction in being able to hold negligent parties, including property owners, accountable if they cause harm to others.
Our team handles Laredo premises liability claims on a contingency fee basis. This means that injury victims do not have to pay any compensation until after we recover the compensation they need.
How Will an Attorney Help a Premises Liability Claim in Laredo?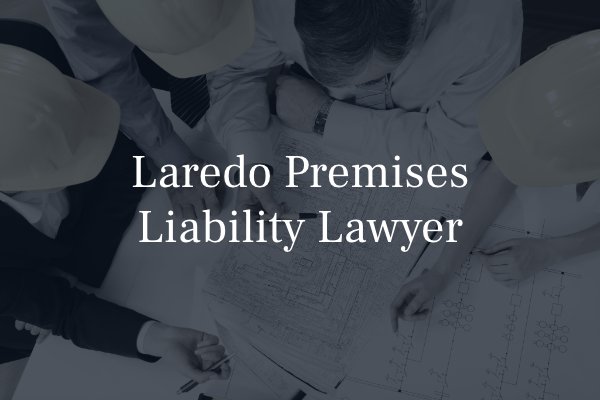 Premises liability claims often become challenging very quickly, particularly when the insurance carrier and legal team for the property owner get involved. However, when you have a premises liability lawyer in Laredo, you will have an advocate who can use their resources to handle your entire claim. This includes:
Gathering all evidence needed to prove fault for the claim
Working with medical and economic experts to calculate current and future expected expenses
Communicating with insurance carriers and legal teams to obtain a fair settlement offer
Filing a premises liability claim in civil court to move the case towards the trial process
What Are Common Causes Of Premises Liability Claims in Laredo?
Property owners have a duty to ensure that their premises are safe for those who have a right to be there. This can include guests at a private residence or patrons at a public store or government property. This responsibility includes regular inspection and maintenance. If it can be shown that a property owner knew or should have known about a hazardous condition but failed to remedy the situation or warn guests of the danger, they could be held responsible if injuries occur.
Premises liability claims can arise in a wide variety of ways, some of the most common of which are:
Slip and fall incidents
Trip and fall incidents
Chemical spills
Electrocutions
Dangerous stairs, elevators, or escalators
Inadequate security
If you think that your injury was caused by the careless or negligent actions of a property owner, we encourage you to reach out to an attorney who can examine the facts of your case as soon as possible. Please understand that you have a limited amount of time to file these claims in court (two years per the Texas personal injury statute of limitations). If you were injured by an animal such as a dog, this can even fall under premises liability, so contact one of our Laredo dog bite lawyers to discuss your case.
Common Premises Liability Injuries In Laredo 
Individuals can sustain a wide range of injuries as a result of a premises liability incident in Laredo. When property owners are negligent in their duties to keep patrons safe, the following injuries are not uncommon:
Severe lacerations

Puncture wounds

Fractured bones

Dislocations

Concussions

Spinal cord injuries

Whiplash

Significant sprains or strains

Respiratory burns or illnesses

Hearing or vision loss
In some cases, injury victims may sustain more than one type of injury as a result of property owner negligence. Additionally, this is not a complete list of the types of injuries or illnesses that can occur in these situations. We strongly encourage you to reach out to a skilled premises liability lawyer in Laredo who can assist you with the process of recovering compensation for your losses.
Texas Premises Liability Law
Premises falls under the umbrella of personal injury law in Texas. First and foremost, it is important to understand that these claims must be filed within two years from the date the incident occurs. If a premises liability victim fails to file a lawsuit against the alleged negligent property owner or manager within a two-year time frame, they will forfeit their right to recover compensation. The claim will get dismissed.
In Texas, property owners have a responsibility to maintain safe premises for those who have a right to be on the property. The level of duty that a property owner owes depends entirely on the type of category of visitor typically present on the premises:
Invitees

. Invitees are considered business visitors at a property for some type of business reason. Some of the most common and well-known examples include customers at stores for individuals going to an amusement park. However, this can also include delivery individuals or utility workers who enter your property for legitimate business purposes. The duty owed to any invitee includes warning them of any unreasonable risks on the property as well as the property owner regularly inspecting and maintaining the premises to prevent or repair unreasonably risky conditions.

Licensees

. Licensees are considered social visitors. This includes guests to your private residence. Property owners still owe a duty of care to these individuals, which includes an ordinary care to fix dangerous conditions or warn any guests about hazardous conditions they may encounter when they arrive.

Trespassers

. Trespassers do not have permission to be on a person's property, and property owners typically owe no duty of care in these situations. However, property owners are expected to refrain from willfully causing harm to these individuals or causing harm through gross negligence. There is an exception to this trespasser rule, which is the attractive nuisance law. If there is something on the property that attracts children trespassers and they sustain an injury, the individual property owner could still be held liable.
How To Prove Fault In A Premises Liability Claim In Laredo
Determining liability for a premises incident in Laredo, Texas, can be challenging. We encourage you to reach out to a skilled premises liability lawyer who has experience handling these investigations. Every claim is different, and your particular case will need to be examined closely. Ultimately, it must be determined whether or not the four elements of negligence are present, and if they are, the chances of success are better period these elements include:
Duty of Care

. The first step is determining whether or not the defendant owed the plaintiff a duty of care. This is particularly important if the plaintiff was an invitee or licensee on the property. Establishing a duty of care is typically not difficult, but it is critical. If a duty of care is present, then the property owner or manager has a responsibility for maintaining a safe premises or warning guests of any potential hazards.

Breach of Duty

. After a duty of care has been established, it must be shown that the property owner somehow breached their duty to the plaintiff. This can occur in a variety of ways, including a failure to clean up spills of food or drink, failure to warn guests of potential hazards, general disrepair of the premises, etc. Determining that a breach of duty occurred typically involves extensive investigations into the incident.

Causation

. After establishing that a breach of duty did indeed occur, it must be shown that the breach directly or indirectly caused the plaintiff's injuries.

Damages

. The final step in these cases is showing that the plaintiff did sustain some type of monetary loss as a result of the incident. This can include medical bills, property damage, lost wages, and more.
Damages Available In A Laredo Premises Liability Claim 
There may be various types of compensation available to those who sustain injuries caused by the negligence of a property owner in Laredo. No two premises liability claims are exactly alike, and the total amount of compensation available will vary depending on factors related to each particular injury claim. These factors can include the severity of the premises liability injury, the length of the recovery time, whether or not a victim is able to work while they recover, and any level of disability. Additionally, any shared fault could alter how much compensation a person receives if they (the injury victim) played a role in causing their own injuries.
Our goal is to help clients recover both economic and non-economic damages, which can include:
Economic damages

. These are the types of relatively calculable losses that occur after a premises liability incident. Using receipts and invoices that a person receives after these types of incidents, our team will work to adequately calculate the following:

Emergency medical expenses

Any ongoing or future medical needs

Medical devices and medications

Out-of-pocket household expenses

Property damage expenses

Lost income and loss of future earnings

Non-economic damages

. These are damages associated with more immeasurable losses a person sustains after a premises liability incident in Laredo. These types of damages typically have no bills or receipts that a person can calculate, but there are various acceptable ways to calculate these losses. Non-economic damages seek to provide premises liability victims with compensation for their emotional and psychological pain and suffering as well as their physical pain and suffering damages. If there is any disability, loss of quality of life and loss of enjoyment of life damages may also be available.
Contact a Laredo Premises Liability Attorney Today
If you or somebody you love has been injured due to the careless or negligent actions of a property owner in the Laredo, Texas, area, reach out to the team at Nevárez Law Group for help today. We have the resources necessary to fully investigate these claims, and our goal is to ensure that you recover total compensation for your losses. This includes coverage of your medical bills, lost wages, and pain and suffering damages. When you need a Laredo premises liability attorney, you can contact us for a free consultation of your case by clicking here or calling us at (830) 776-7003.
NEIGHBORHOODS IN LAREDO, TX WE SERVE
Las Cruces, Colonia Los Obispos , El Cuatro , El Tonto, El Trompe, Ponderosa Hills , Canta Ranas , Siete Viejo , Dellwood Park , Chacon, Regency Park, J.S.J. Estates , Crown Ridge, San Jose, Woodlands, Towne East, Creekside, Cielito Lindo, Colonia Los Obispos, Las Lomas, Las Polkas, Los Amores, La Ladrillera, El Trece , Chaparral Village, Vista Hermosa, Santa Rita, Santa Fe, Sierra Vista, George Washington, Concord Hills, and more!