Laredo Pedestrian Accident Attorney
Of the numerous auto accidents that occur every day, some of the most serious injuries occur when a pedestrian is struck by a vehicle. A pedestrian is particularly vulnerable to serious injury when struck by a vehicle, and in the most severe cases, a pedestrian can be killed, in which you need a Laredo wrongful death lawyer. Nevertheless, at Nevárez Law Group, our Laredo pedestrian accident attorneys are ready to help you through this.
Why Turn to Nevárez Law Group for Your Laredo Pedestrian Accident Claim?
At Nevárez Law Group, our Laredo accident lawyers and staff combine legal experience with technical skills to achieve successful results for our clients.
We have recovered billions of dollars on behalf of injured parties through settlements and jury verdicts over the last 20 years.
Pedestrian accident victims who come to our firm never have to worry about paying legal fees until after we successfully recover the compensation they need.
Why do You Need an Attorney for a Pedestrian Accident Claim in Laredo?
Insurance carriers often push back strongly from having to pay out compensation to pedestrians, even if another driver was at fault. However, when a skilled injury attorney in Laredo gets involved, they will use their resources to fully investigate every aspect of the case. This includes:
Uncovering all evidence needed to prove liability
Working with trusted medical professionals who can treat the injuries and help properly calculate total expected medical expenses
Handle all negotiation and communication with aggressive insurance carriers
File a personal injury lawsuit in civil court and prepare the case for trial if necessary
Why Are Pedestrians More Vulnerable?
Pedestrians do not have any protection from the force of a heavier vehicle slamming into them. Even a slow-moving vehicle can cause significant injuries to pedestrians on or around the roadway or inside parking lots. Across the state of Texas, during the latest reporting year, there was 4,844 total pedestrian versus vehicle collisions, according to the DOT. Out of these reported incidents, there were:
717 total fatalities
1,157 suspected serious injuries
1,607 non-incapacitating injuries
1,387 possible injuries
Our pedestrian accident lawyers have experience in all aspects of pedestrian accidents, which can include a variety of complex issues. Most often, a pedestrian accident is the result of an inattentive or negligent driver. A pedestrian accident can also occur because of a defective product in an automobile, which our product liability lawyers in Laredo can help with.
Most Common Pedestrian Accident Injuries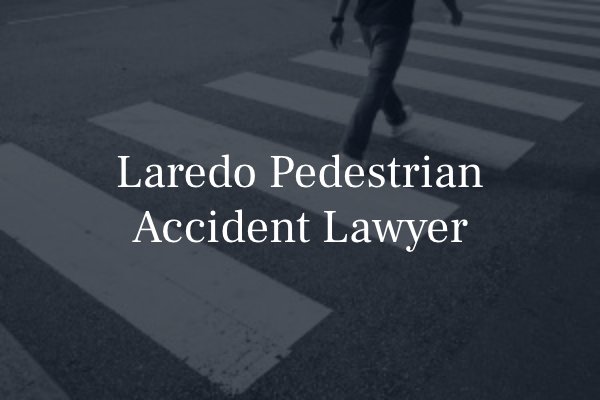 Pedestrians involved in collisions with vehicles are likely to sustain severe injuries. It is not uncommon for our attorneys to help clients who have sustained spinal cord injuries, broken bones, crush injuries, amputations, severe lacerations, major blood loss, internal organ damage, or damages that might require the help of one of our Laredo brain injury lawyers.
Additionally, we also recognize that pedestrian accident victims are likely to suffer from a range of emotional and psychological consequences, particularly if they sustain severe injuries. This can include long-lasting feelings of fear, anxiety, and stress. We also help pedestrian accident victims in Laredo who are suffering from post-traumatic stress disorder (PTSD).
Our goal is to recover full compensation for our clients, including coverage of their visible traumatic injuries as well as the unseen emotional and psychological trauma that can affect their lives on a daily basis.
Our pedestrian accident attorneys work to obtain compensation for the damages you suffer as a result of being involved in an accident. Much like our accident lawyers in Laredo, our pedestrian accident representatives will fight for damages that include:
Medical Bills and Expenses
Pain and Suffering
Lost Wages, and Future Lost Wages
Permanent Impairment You Have Suffered
Loss of the Quality of Your Life
Loss of Consortium
Permanent Disfigurement You Have Suffered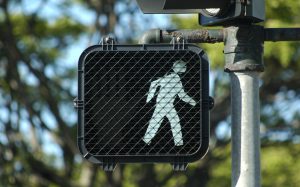 Numerous insurance coverage issues can come into effect when a pedestrian accident occurs. Surprisingly for pedestrians, their own automobile insurance coverage can come into effect even though they were not driving their car, and were simply walking down the sidewalk. Occasionally, the at-fault driver may work for a company or government entity.
Our pedestrian accident lawyers can advise you regarding all the legal issues that arise when a pedestrian accident occurs.
It is important that our pedestrian accident attorneys become involved as soon as possible following an accident so that we can begin an immediate investigation into the pedestrian accident, preserve evidence related to the pedestrian accident, and prepare your case for trial.
If you were a pedestrian that was struck by a commercial vehicle, please reach out to our Laredo truck accident lawyers today.
Contact a Laredo Pedestrian Accident Attorney Immediately
If you or somebody you love has sustained an injury in a pedestrian accident caused by the negligence of another driver in the Laredo, Texas, area, reach out to the team at Nevárez Law Group for help immediately. We will use our vast resources to fully investigate every aspect of your claim, ensure that you are properly cared for, and help you recover total compensation for your losses. Our Laredo pedestrian accident attorneys will fully prepare to take your case to trial if necessary. You can contact us for a free consultation of your case by clicking here or calling us at (830) 776-7003.
NEIGHBORHOODS IN LAREDO, TX WE SERVE
Las Cruces, Colonia Los Obispos , El Cuatro , El Tonto, El Trompe, Ponderosa Hills , Canta Ranas , Siete Viejo , Dellwood Park , Chacon, Regency Park, J.S.J. Estates , Crown Ridge, San Jose, Woodlands, Towne East, Creekside, Cielito Lindo, Colonia Los Obispos, Las Lomas, Las Polkas, Los Amores, La Ladrillera, El Trece , Chaparral Village, Vista Hermosa, Santa Rita, Santa Fe, Sierra Vista, George Washington, Concord Hills, and more!