Laredo Bus Accident Attorney
Accidents involving commercial buses regularly result in severe injuries and extensive property damage for those involved. At Nevárez Law Group, our team is here to help if you need a Laredo bus accident attorney by your side. If the crash was caused by the negligent actions of a bus driver or bus carrier, we will work diligently to recover total compensation for your losses. Our attorneys have no problem standing up to aggressive insurance carriers to ensure that you are cared for every step of the way.
Why Use A Laredo Bus Accident Attorney From Nevárez Law Group?
At Nevárez Law Group, our Laredo accident attorneys and staff combine technical skills with legal experience to achieve significant results for our clients.
We are not afraid to go head-to-head with other individuals, insurance carriers, or companies to secure maximum compensation for our clients.
We handle Laredo bus accident claims on a contingency fee basis. This means that clients will not have to pay any upfront or out-of-pocket costs for their case, and they will owe no legal fees until after we recover compensation for their losses.
Do You Need an Attorney for a Bus Accident Case in Laredo?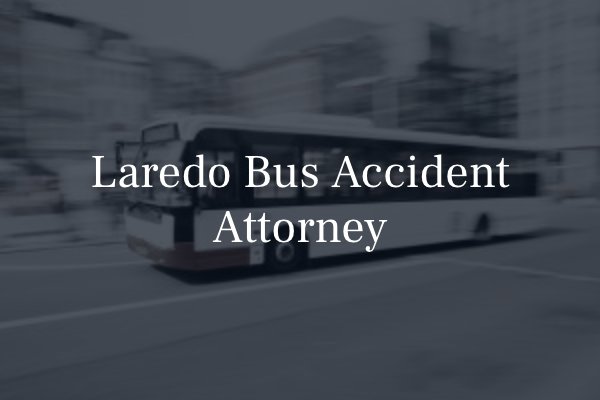 Bus accident claims can become incredibly challenging, particularly when it comes to gathering the evidence needed to prove liability, unlike some car accidents in Laredo. At-fault bus companies or government entities regularly put up roadblocks when it comes to paying out compensation. A skilled accident lawyer in Laredo with knowledge of bus accidents will use their resources and the court system to uncover all evidence needed to prove liability.
An injury attorney in Laredo will also make sure that their client is evaluated and treated by a trusted medical professional. Throughout this process, an attorney will negotiate with all parties involved to recover a fair settlement offer, but they will also prepare the claim for trial if they have to.
What is a Common Carrier and how Does it Affect My Claim?
One phrase that is going to come up in the aftermath of a bus accident that you may be unaware of is "common carrier." A common carrier is a special type of vehicle that individuals use for work or commercial purposes. This can include carrying cargo or carrying paying passengers. Across the state of Texas, thousands of common carriers cross the roadways every day.
Common carriers are required to obey stricter rules and regulations than other types of vehicles. Getting into an accident with a common carrier means that the claims process will look different. Buses are certainly considered common carriers in Texas. This includes public or private buses as well as school buses, tour buses, and airport and hotel shuttle buses. These same rules apply to semi-truck drivers.  Reach out to our truck accident lawyers in Laredo to learn more.
The duty of care that common carriers have to prevent collisions is higher than for standard drivers in Texas. Failing to uphold this higher duty of care constitutes negligence, and a negligent common carrier will likely owe compensation if they cause harm to others.
If death was involved due to a bus accident, please reach out to our wrongful death lawyers in Laredo. 
Contact a Laredo Bus Accident Attorney Immediately
If you or a loved one have been injured due to the negligent actions of a bus driver or bus carrier in the Laredo, Texas, area, let the team at Nevárez Law Group step up and help you with your claim. We have the resources necessary to fully investigate every aspect of these claims. We know what it takes to stand up to bus companies and government bus carriers to help you recover total compensation for your losses. When you need a Laredo bus accident attorney, you can contact us for a free consultation of your case by clicking here or calling us at (830) 776-7003.
NEIGHBORHOODS IN LAREDO, TX WE SERVE
Las Cruces, Colonia Los Obispos , El Cuatro , El Tonto, El Trompe, Ponderosa Hills , Canta Ranas , Siete Viejo , Dellwood Park , Chacon, Regency Park, J.S.J. Estates , Crown Ridge, San Jose, Woodlands, Towne East, Creekside, Cielito Lindo, Colonia Los Obispos, Las Lomas, Las Polkas, Los Amores, La Ladrillera, El Trece , Chaparral Village, Vista Hermosa, Santa Rita, Santa Fe, Sierra Vista, George Washington, Concord Hills, and more!