Laredo Wrongful Death Attorney
In the event you have suffered or are currently suffering from the wrongful death of a loved one due to a wrongdoer's negligence or recklessness, you, as the injured person or party, have important legal rights available to you. The untimely and unexpected death of a loved one often leaves families in a difficult emotional and financial situation. Unpaid medical and funeral costs compound the emotional distress. The emotional pain, torment, and suffering experienced as a result of a wrongful death more often than not devastate families. In wrongful death cases, family members may be entitled to money or compensation if the negligence or recklessness of a third party or wrongdoer is proven in Court.
The wrongful death attorneys at Nevárez Law Group, PC. stand ready to help with all of your legal needs. We will compassionately and aggressively handle your wrongful death case.
Why Choose Nevárez Law Group for a Wrongful Death Claim?
At Nevárez Law Group, our compassionate Laredo personal injury lawyers focus on providing a client-centered approach to every case, which means that we will take the time to listen to your family's goals and needs.
We have the resources necessary to handle every aspect of your claim so that you can focus on mourning the loss of your loved one while we work to hold the at-fault party accountable.
We take wrongful death claims in Laredo on a contingency fee basis, which means that you will not have to worry about paying any legal fees until after we successfully recover the compensation your family needs.
How Will an Attorney Help With a Wrongful  Death Claim in Laredo?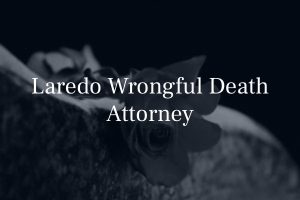 Wrongful death claims are incredibly emotional and challenging, and family members and estates should not try to handle these claims by themselves. A Laredo wrongful death attorney can use their resources to fully investigate every aspect of these claims. They will:
Gather all evidence needed to prove liability
Work with economic and financial experts to calculate total expected losses
Handle all communication and negotiations with the other parties
File a wrongful death lawsuit in civil court, handle the discovery and prepare the claim for trial
What is a Texas Wrongful Death Claim?
When we examine Texas law regarding these claims, we can see that a "wrongful death" occurs if:
An injury is caused by another person or entity's "wrongful act, neglect, carelessness, unskilfulness, or default," or
The injured person would have been able to file a personal injury lawsuit against the negligent party had they lived.
Types Of Texas Wrongful Death Cases We Handle
At Nevárez Law Group, our Laredo accident attorneys have helped family members and estates who have lost loved ones in a variety of ways caused by the negligence of others. This includes, but is not limited to, the following:
Car accidents – During the most recent reporting year of data on file from the

Texas Department of Transportation

, we can see that there were 4,481 total vehicle accident fatalities across the state. These incidents are often caused by the careless or negligent actions of other drivers, including impaired driving, distracted driving, failure to follow basic traffic laws, and more.

Truck accidents

– In 2022, there were more than 38,000 total commercial motor vehicles involved in crashes across the state. As a result, these incidents led to 716 documented fatalities. Not all of the commercial motor vehicles associated with the data provided by the

Texas DOT

involve larger trucks, but many of them do. Large commercial truck accidents are often caused by the negligent actions of a truck driver, but these incidents can also be caused by the negligence of a trucking company or some other third party associated with these vehicles.

Workplace injuries

– Data provided by the

Bureau of Labor Statistics

(BLS) shows that there were 533 total workplace fatalities in Texas during the most recent reporting year of data available. Certain industries are certainly more dangerous than others, including agriculture, transportation, construction, in manufacturing. However, fatalities can occur in any type of workplace in Texas. This can be complicated, particularly because the state of Texas does not require all employers to carry workers' compensation insurance.

Motorcycle accidents

– Data shows that there were

562 total fatalities

associated with motorcycle accidents across Texas in 2022. Unfortunately, motorcyclists are much more vulnerable on the roadway than traditional vehicle users, so any type of incident has the potential for serious injury or fatality. 

Pedestrian accidents

– There were 828 total pedestrian fatalities in the state of Texas in 2022, hey significant number and often associated with vehicle driver negligence.

Medical malpractice

– Johns Hopkins researchers have said that there may be as many as 250,000 fatalities caused by

medical mistakes

across the United States each year. These mistakes can occur as a result of a surgical error, misdiagnosis, failure to treat, birth injuries, hospital-acquired infections or falls, and more.

Product liability

– Defective products can cause significant harm to consumers. Products can become defective in a number of ways, including a manufacturing defect, a design flaw, or an issue with labeling or advertising.

Nursing home abuse and neglect – Nursing home abuse and neglect is abhorrent but unfortunately common. This can consist of physical and emotional abuse as well as complete neglect of a person's basic needs, such as food, shelter, and medical care.
If a death occurred on someone else's property, it is imperative that you explain your case to our experienced Laredo premises liability lawyers as soon as possible.
Can Family Members File Wrongful Death Claims in Laredo?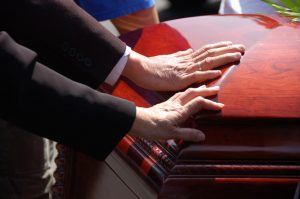 In Texas, the law specifies who is allowed to file a wrongful death lawsuit. In this state, this includes the following:
Spouse of the deceased
Children of the deceased
Parents of the deceased
Any one of these individuals is allowed to file a wrongful death lawsuit on behalf of the others. If the surviving spouse, children, or parents fail to file a lawsuit within three months from the date of death, the executor of the estate will be allowed to file the claim in court, unless the surviving family members have specifically asked that the claim not be filed.
How to Prove Liability In A Wrongful Death Case? 
Proving liability after a wrongful death occurs can be challenging, and we strongly encourage you to reach out to a skilled attorney who has experience handling complex claims. In order to recover compensation through a settlement or a jury verdict, it must be shown that the alleged negligent party was indeed negligent in causing the death. This involves examining the four elements of negligence that must be present in order for a successful personal injury or wrongful death claim:
Duty of Care

– The first step in determining negligence for a wrongful death claim is showing that the defendant (the person alleged to have caused the death) owed a duty of care to the deceased at the time the incident occurred. The duty of care that a defendant may have owed will vary depending on the type of incident that occurred. For example, anyone who gets behind the wheel of a vehicle automatically owes a duty of care to everyone around them, including other drivers, bicyclists, pedestrians, etc. The study involves operating the vehicle safely and within the confines of Texas law. However, the duty of care that a property owner owes those who have a right to be on the premises is different and involves maintaining an environment that is free from known hazards or warning guests of any potential hazards that may be present.

Breach of Duty

– After establishing that a duty of care was present between the defendant and the deceased, it must be shown that the defendant breached the duty of care they owed. A breach of duty will look different, again, depending on the situation at hand. Following the examples above, a driver can breach their duty of care in a number of ways, including operating well impaired, distracted, or fatigued. Property owners can breach their duty of care if they know about a known hazard and fail to warn their guests or if they fail to regularly inspect and maintain their premises.

Causation

– After determining that a breach of duty was indeed present, it must be shown that the breach is what actually caused the incident that led to the death of the deceased.

Damages

– Lastly, there must have been some sort of monetary damages as a result of the wrongful death. Below, we discussed the types of compensation available to family members for a wrongful death claim.
What Are The Wrongful Death Statute Of Limitations In Laredo?
If you have lost a loved one due to the negligent actions of another individual, company, or entity in Laredo, you need to file your claim as soon as possible. The wrongful death statute of limitations in Texas is two years from the date of death Tex. Civ. Prac. & Rem. Code § 16.003 (2021). If this statute of limitations expires, you will no longer be able to file the lawsuit and recover compensation for your losses. 
There are very limited circumstances in which a valid claim can occur after this two-year time frame, but this is rare. We strongly encourage you to work with a skilled wrongful death lawyer who can walk you through this process and help you recover the compensation you need.
In addition to the statutory time frame in place under the law, if the wrongful death claim involves insurance carriers, there are other deadlines that you need to be aware of. For example, if the wrongful death results from a vehicle accident, most auto insurance carriers require that claims be reported within a day or two after the incident occurs. Failing to adhere to insurance carrier deadlines could unnecessarily delay the claim.
Types of Compensation Available to Family Members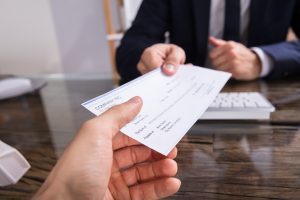 If a wrongful death claim in Texas is successful, the plaintiff's losses (damages) will be awarded to the deceased individual's surviving spouse, children, parents, or other beneficiaries. The most common damages awarded through a Texas wrongful death claim can include a range of losses, including the following:
Lost earning capacity, including future wages the deceased is no longer able to provide

Lost benefits the deceased would have provided as a result of their employment

Lost inheritance, which includes what the deceased would likely have saved to leave to surviving family members had they lived

Last care, services, support, advice, maintenance, and counsel the deceased would have provided their family members

Lost companionship, comfort, love, and consortium the deceased would have provided

Emotional and psychological anguish experienced by surviving family members
These are the economic and non-economic losses typically recoverable through a successful wrongful death claim in Texas. In some cases, plaintiffs may be awarded punitive damages, often referred to as exemplary damages. These types of damages are only available in cases where the death was caused by extreme gross negligence or intentional action on the part of the defendant. The purpose of punitive damages is not necessary to compensate family members but to punish the wrongdoer and to deter any other individuals from engaging in similar conduct.
There is no set amount of compensation available for a wrongful death claim. There are various factors that can influence how much compensation is paid out through an insurance settlement or a personal injury jury verdict. We strongly encourage you to work with your skilled wrongful death lawyer who can examine all of these factors with you. Typically, an attorney will work with trusted economic and financial experts throughout the course of your case to help ensure that you and your family, as well as the estate, receive a fair amount of compensation.
How Long Does A Wrongful Death Case Take?
There is no standard amount of time for how long it will take a wrongful death case to resolve. The vast majority of wrongful death claims, and other types of personal injury claims, are resolved through settlements with insurance carriers or directly with the at-fault party. However, even if a claim does not go to trial, it can still take quite some time to resolve. In general, a wrongful death settlement will likely last many months or more than a year, but if the insurance carrier or at-fault party refuses to offer a fair settlement or denies the claim, then there will need to be a wrongful death lawsuit in civil court.
The civil court wrongful death process in Texas can be time-consuming and begins with the discovery phase. This is when legal teams for the plaintiff and the defendant will exchange information and evidence with one another, and there may be a time when mediation becomes necessary as more information comes to light. If the claim cannot be resolved during this process, then the case will move forward to a trial by jury. It is not uncommon for a case to take years before it reaches a jury. We encourage you to speak to your wrongful death attorney in Laredo who can help you understand the expected timeframes involved with your particular case.
Contact a Laredo Wrongful Death Attorney Today
If you have lost somebody that you love as a result of the careless or negligent actions of another individual or entity in the Laredo, Texas, area, turn to the team at Nevárez Law Group for help immediately. We offer compassionate and experienced lawyers who have a track record of success ensuring that family members and estates recover closure and compensation for their losses. When you need a Laredo wrongful death attorney, you can contact us for a free consultation of your case by clicking here or calling us at (830) 776-7003.
NEIGHBORHOODS IN LAREDO, TX WE SERVE
Las Cruces, Colonia Los Obispos , El Cuatro , El Tonto, El Trompe, Ponderosa Hills , Canta Ranas , Siete Viejo , Dellwood Park , Chacon, Regency Park, J.S.J. Estates , Crown Ridge, San Jose, Woodlands, Towne East, Creekside, Cielito Lindo, Colonia Los Obispos, Las Lomas, Las Polkas, Los Amores, La Ladrillera, El Trece , Chaparral Village, Vista Hermosa, Santa Rita, Santa Fe, Sierra Vista, George Washington, Concord Hills, and more!