Laredo Medical Malpractice Attorney
Medical mistakes often lead to severe injuries and illnesses for those involved. At Nevárez Law Group, our Laredo medical malpractice attorneys understand how challenging these cases can become, particularly when working to recover compensation for a victim. We have extensive resources at our disposal, and we know what it takes to fully investigate medical mistake cases to ensure that our clients have proper care every step of the way.
Why Choose Nevárez Law Group for Your Medical Malpractice Claim?
At Nevárez Law Group, we have more than 20 years of experience handling complex injury and malpractice claims throughout Texas and the US.
Our attorneys, such as our Laredo accident lawyers, are committed to making a difference, even if this means standing up to medical professionals and medical agencies when they make a mistake.
We take medical malpractice claims on a contingency fee basis. This means that clients will never have to worry about paying a dime in legal fees until we secure the money they need.
Do You Need an Attorney for a Medical Malpractice Case in Laredo?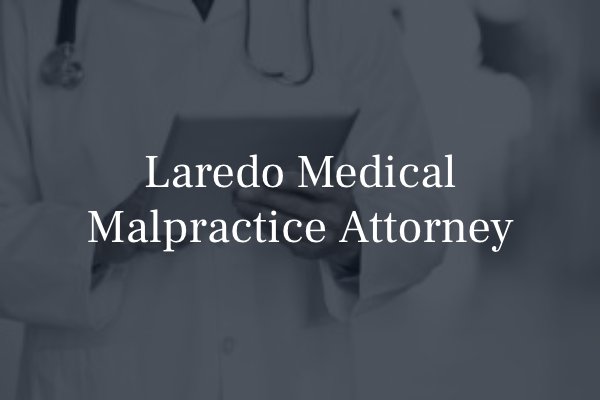 Medical malpractice claims are notoriously difficult and nearly impossible for individuals without any legal experience. You can be sure that medical professionals and health care agencies will have extensive legal teams to help prevent them from paying out compensation.
A medical malpractice lawyer in Laredo will use their resources to go toe-to-toe with these other parties. This will include fully investigating the incident, working with trusted third-party medical experts, and handling all negotiations with other parties involved.
Medical malpractice claims and lawsuits can arise when people are injured by careless or intentional acts of a doctor, nurse, psychiatrist, dentist, chiropractor, podiatrist, hospital, or other healthcare providers. When these actions cause an injury to another person (but the actions do not rise to the level of a crime), they are said to be a 'tort,' or civil wrong, which can provide the basis for a lawsuit.
When someone is determined to be legally responsible for injuring someone else, they are liable for the injury and may be made to pay the injured person compensatory damages. Compensatory damages attempt to put an injured person back in the position he or she was in before being injured. In some cases, punitive damages are also awarded in these lawsuits. Punitive damages are intended to punish wrongdoers and prevent them from harming others.
If a death has occurred as a result of medical malpractice, please reach out to one of our wrongful death lawyers in Laredo as soon as possible.
What is the Medical Standard of Care?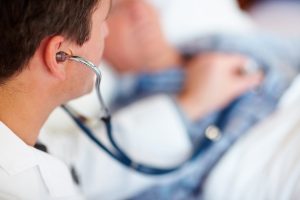 When working to determine negligence in a medical malpractice case, we will use the measuring stick typically referred to as the "medical standard of care." Similar to other types of Laredo personal injury claims, we see that medical professionals and facilities owe a duty of care under certain circumstances. If a person is legally considered a patient, meaning that a doctor-patient relationship has been established, then the professional will owe that person a medical standard of care.
The medical standard of care will typically be defined as the level and type of care that a reasonably skilled and competent medical professional with a similar background in the same medical community would have provided under similar circumstances.
Establishing the medical standard of care and determining whether or not this standard has been violated can be challenging. Typically, an attorney involved in the case will enlist assistance from trusted medical experts who can evaluate the claim, the medical records, and the patient and provide testimony to insurance carriers or during a medical malpractice trial.
Some of the most common types of medical errors that we help clients with include the following:
Missed Diagnosis
Delayed Diagnosis
Lack of Informed Consent
Birth Injuries
Healthcare Provider Errors
Misread X-ray, Slides, and Ultrasounds
Medical Device Errors
HMO Misconduct
Medication / Pharmaceutical Errors
Spinal Cord Injuries
Dental Malpractice
Nursing Home Abuse & Neglect
What Are Some Early Signs Of Medical Malpractice? 
There are various signs and symptoms that individuals and their family members need to be aware of that could indicate that medical malpractice has occurred. However, please understand that some signs and symptoms may not be visible for some time after a medical procedure. If you begin to notice anything that affects your health, we encourage you to seek medical care immediately. A medical provider may be able to link your symptoms to a previous medical procedure.
Some of the early signs of medical malpractice can include:
Worsening of symptoms

. If a person goes to a doctor for certain signs and symptoms, but these symptoms continue to get worse even after treatment or after a diagnosis, this could be a sign that either a misdiagnosis has occurred or the doctor failed to diagnose the issue.

New symptoms after a procedure

. If a person begins to experience new symptoms that may or may not be related to the original medical issue, this could be a sign that a mistake was made by a medical professional during treatment or a procedure.

Reactions to medications

. Medication mistakes are a leading cause of medical malpractice claims. If an individual begins to experience any reaction to a medication or a dosage of their medication, this could be a sign that malpractice has occurred.

Death during or after a procedure

. Anytime an individual loses their life during a medical procedure or soon after the procedure, the case should be investigated. This does not necessarily mean that a mistake occurred, but it could be a case of malpractice that should be looked into.
There are times when doctors or other medical professionals on the team will admit that a mistake was made. This confession could come in an offhand comment or a conversation overheard by family members or the patient themselves.
Compensation Available for Medical Malpractice Victims
Medical malpractice victims may be able to recover various types of compensation for their losses. At Nevárez Law Group, we work diligently to recover both economic and non-economic damages on behalf of medical malpractice victims in Laredo.
Economic medical malpractice damages

. This includes the calculable expenses that medical malpractice victims experience. Some of the most common economic damages in these situations include:

Extended medical bills caused by the medical mistake

Physical therapy and rehabilitation expenses

The cost of prescription medications or medical devices

Lost wages if a victim cannot work

Out-of-pocket expenses 

Non-economic medical malpractice damages

. This refers to the types of losses that are not as easily measured by gathering bills or receipts. These are often referred to as "immeasurable" losses, though there are ways to properly measure them. Some of the most common non-economic medical malpractice damages include a person's:

Physical pain and suffering caused by the mistake

Emotional and psychological trauma caused by the malpractice

Loss of consortium or companionship for a spouse or family members
Contact A Laredo Medical Malpractice Lawyer Today
If you or somebody you love has sustained an injury caused by the negligent actions of a medical professional in the Laredo area, the Laredo injury attorneys at Nevárez Law Group are standing by to help. We have vast resources at our disposal, and our team has an extensive history of success in recovering significant settlements and jury verdicts on behalf of clients. Let us investigate your claim and stand up to aggressive turn carriers to ensure that you are cared for. When you need a Laredo medical malpractice attorney, you can contact us for a free consultation of your case by clicking here or calling us at (830) 776-7003.
NEIGHBORHOODS IN LAREDO, TX WE SERVE
Las Cruces, Colonia Los Obispos , El Cuatro , El Tonto, El Trompe, Ponderosa Hills , Canta Ranas , Siete Viejo , Dellwood Park , Chacon, Regency Park, J.S.J. Estates , Crown Ridge, San Jose, Woodlands, Towne East, Creekside, Cielito Lindo, Colonia Los Obispos, Las Lomas, Las Polkas, Los Amores, La Ladrillera, El Trece , Chaparral Village, Vista Hermosa, Santa Rita, Santa Fe, Sierra Vista, George Washington, Concord Hills, and more!