Laredo Brain Injury Attorney
Brain injuries can lead to significant long-term physical and financial setbacks for victims. At Nevárez Law Group, we understand how challenging these cases can be, and we are here to help if you need a Laredo brain injury attorney by your side. If the careless or negligent actions of another individual or entity caused the injury, we will work diligently to recover full compensation for your losses.
Why Choose Nevárez Law Group for Your Brain Injury Claim?
At Nevárez Law Group, our Laredo injury lawyers handle each claim with a client-focused approach, which means that every person we work with will always have access to their attorney to ask any questions or raise concerns.
We go to wherever our clients are to ensure that they are taken care of, including at the hospital or at their homes.
We take brain injury cases in Laredo on a contingency fee basis, meaning that our clients will not have to pay any legal fees until we recover the compensation they are entitled to.
Do You Need an Attorney for a Brain Injury Case?
Brain injury claims can become complex, particularly when insurance carriers and at-fault parties try to avoid paying out compensation. Because brain injury claims often involve long-term costs, you can be sure that the other parties will do what they can to limit how much money they pay out in a settlement.
A Laredo injury attorney will be an advocate for their client throughout the entire process. This will include fully investigating the incident, properly calculating all current and future expenses, and handling all negotiations with other parties involved.
What Are Common Brain Injuries in Laredo?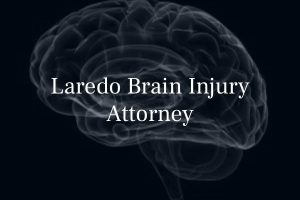 Information provided by the Centers for Disease Control and Prevention (CDC) shows that brain injuries can be caused by a "bump, blow, or jolt to the head" or as a result of an object penetrating the skull. The CDC says that there are around 166 traumatic brain injury deaths that occur each day across this country and that many thousands of others sustain brain injuries that require hospitalization.
At Nevárez Law Group, our attorneys have experience helping clients who have sustained brain injuries in a wide variety of ways, often due to the negligence of others. This includes, but is not limited to, the following:
Defective products
Sports injuries
Intentional acts of violence
This is certainly not a complete list of the ways that brain injuries occur, and we encourage you to contact our attorneys so we can offer a free consultation to determine the best steps forward for your particular claim. Furthermore, if there has been a loss of life as the result of a brain injury, reach out to our Laredo wrongful death attorneys at once.
Contact a Laredo Brain Injury Attorney Immediately
If you or a loved one has sustained a brain injury caused by the negligent or intentional actions of another individual or entity in the Laredo, Texas, area, turn to the team at Nevárez Law Group for help today. Laredo accident lawyers have a track record of success handling complex brain injury claims throughout this state, and we know what it takes to help clients recover compensation for their short- and long-term expenses. When you need a Laredo brain injury attorney, you can contact us for a free consultation of your case by clicking here or calling us at (830) 776-7003.
NEIGHBORHOODS IN LAREDO, TX WE SERVE
Las Cruces, Colonia Los Obispos , El Cuatro , El Tonto, El Trompe, Ponderosa Hills , Canta Ranas , Siete Viejo , Dellwood Park , Chacon, Regency Park, J.S.J. Estates , Crown Ridge, San Jose, Woodlands, Towne East, Creekside, Cielito Lindo, Colonia Los Obispos, Las Lomas, Las Polkas, Los Amores, La Ladrillera, El Trece , Chaparral Village, Vista Hermosa, Santa Rita, Santa Fe, Sierra Vista, George Washington, Concord Hills, and more!