Laredo Product Liability Attorney
Companies and manufacturers are responsible for ensuring that their products are safe for consumers. Unfortunately, defective products make it into our workplaces and our homes on a regular basis. At Nevárez Law Group, we are standing by to help if you need a Laredo product liability attorney. We have a vast network of resources that we engage to fully investigate these claims, determine liability, and help our clients recover total compensation for their losses. We are fully prepared to take your claim to trial if necessary.
Why Choose Nevárez Law Group for Your Laredo Product Liability Claim?
At Nevárez Law Group, we represent every client diligently, professionally, and with the dedication that they deserve.
Our team of Laredo personal injury lawyers makes it a point to go to where our clients are if they cannot come to us, including their homes or at the hospital.
We have an extensive track record of success and have recovered billions of dollars in compensation for clients in Texas and throughout the US.
How Will a Laredo Product Liability Attorney Help?
Product liability claims in Laredo can be challenging, particularly when individuals have to go up against major corporations and their legal teams. The reality is that those injured by defective products need to have an attorney by their side with the resources necessary to go toe-to-toe with these other parties.
A Laredo product liability attorney can use their resources to fully investigate the incident. This includes:
Enlisting product experts who can fully examine the product in question
Researching the history of the product in Texas and throughout the US
Obtaining company and manufacturer safety records
Working with medical experts who can provide reports to insurance carriers or the jury
Handling all negotiations with other parties to recover a fair settlement
How do Products Become Defective?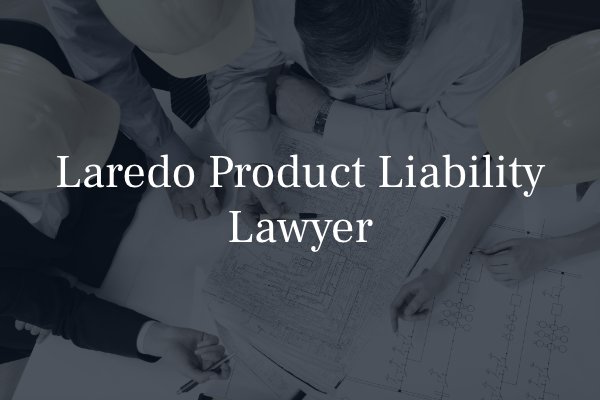 Even though we expect that the products we purchase to use or consume will be safe for ourselves and our family members, that is not always the case. A quick look at the website that keeps track of recalls in this country shows us that there are various types of defective products that make it to the shelves each year. Some of these include:
Foods or beverages
Prescription or over the counter medications
Vehicles
Vehicle parts
Toys
Tools
Lawn care equipment
Sunscreens
Deodorants
Electronic devices
Children car seats
Strollers
This is certainly not a complete list of the types of products that can become defective. Products typically become faulty in one of three ways:
Design defects: This occurs anytime a product has a flaw that is present from the beginning, even before it goes through the manufacturing process. These flaws must render the product inherently unsafe.
Manufacturing defects: Manufacturing defects can occur even with a product that is well designed but experiences an issue during the manufacturing process that renders it unsafe for consumers.
Marketing defects: Flaws in the way a product is marketed often have nothing to do with the design or the manufacturing process. This can include improper labeling, inadequate instructions, or improper safety warnings.
Common Injuries We Help Clients With
Individuals could sustain a wide variety of injuries as a result of defective products. Our Laredo personal injury attorneys have helped clients who have sustained the following:
Broken bones
Severe lacerations
Puncture wounds
Amputation injuries
Major blood loss
Significant scarring and disfigurement
Furthermore, defective products can not only lead to head injuries, which our brain injury lawyers in Laredo handle, defective products can also cause significant internal illnesses or injuries. This can include acute illnesses such as food poisoning, scalding, and accidental overdoses. Additionally, products that contain dangerous chemicals could lead to significant long-term consequences for individuals, including various types of cancers caused by unsafe products.
What Compensation Can You Receive From a Product Liability Claim?
Individuals who sustain injuries due to defective products in Laredo, Texas, should be able to recover various types of compensation from the company or manufacturer responsible. This includes a range of economic and non-economic losses an individual may sustain, such as:
Emergency medical bills
Long-term medical costs
Physical therapy and rehabilitation costs
Medical devices and prescription medications
Lost wages
Any household out-of-pocket losses
Property damage expenses
In addition to these calculable losses, our attorneys will work diligently to recover compensation for our client's pain and suffering damages. We want to make sure that clients recover compensation for all of their injuries, including the visible traumatic injuries, their internal injuries, as well as any emotional and psychological issues caused by the defective product, such as the loss of a loved one, which our Laredo wrongful death lawyers can help with.
How Long do You Have to File a Product Liability Claim in Laredo?
In general, all personal injury claims in Texas must be filed within two years from the date the injury occurs. However, with product liability claims, there are other deadlines that individuals need to be aware of. In this state, an individual must file a product liability claim against the seller or manufacturer within 15 years from the date of sale of the item.
However, if the company or manufacturer has an express warranty in writing stating that the product has a life longer than 15 years, the product liability claim must be filed within the timeframe specified within the express warranty. This time limit does not apply to the lease of a product. We strongly encourage you to work with an attorney who can investigate every aspect of your claim and ensure that your case is filed on time.
Contact a Laredo Product Liability Attorney Today
If you or somebody you love has been injured as a result defective product, you need to find an attorney willing to stand up against companies and manufacturers to recover compensation. At Nevárez Law Group, we have a track record of success handling complex injury claims throughout Texas, and we know what it takes to help our clients recover total compensation for their losses. We will not leave you in the dark while your case is ongoing. When you need a Laredo product liability attorney, you can contact us for a free consultation of your case by clicking here or calling us at (830) 776-7003.
NEIGHBORHOODS IN LAREDO, TX WE SERVE
Las Cruces, Colonia Los Obispos , El Cuatro , El Tonto, El Trompe, Ponderosa Hills , Canta Ranas , Siete Viejo , Dellwood Park , Chacon, Regency Park, J.S.J. Estates , Crown Ridge, San Jose, Woodlands, Towne East, Creekside, Cielito Lindo, Colonia Los Obispos, Las Lomas, Las Polkas, Los Amores, La Ladrillera, El Trece , Chaparral Village, Vista Hermosa, Santa Rita, Santa Fe, Sierra Vista, George Washington, Concord Hills, and more!