Laredo Drunk Driving Accident Attorney
Sustaining injuries or property damage in an accident caused by a drunk driver can lead to significant financial setbacks. At Nevárez Law Group, we are here to help if you need a Laredo DUI accident attorney by your side. We understand the challenges you face in these circumstances, and we will stand up to aggressive insurance carriers and at-fault parties so you can focus on recovering while we focus on recovering the compensation you need.
Why Choose Nevárez Law Group for Your DUI Accident Claim?
At Nevárez Law Group, our experienced accident attorneys in Laredo and staff combine legal experience and technical skills to achieve results for our clients.
We handle every case with integrity, personal attention, and flexibility to ensure that our clients' needs are met while their case is ongoing.
Our clients never have to worry about paying any upfront or out-of-pocket costs for their cases. In fact, clients pay no legal fees until after we successfully recover the compensation they are entitled to.
Do You Need an Attorney for a DUI Accident Case?
A DUI accident attorney in Laredo will play a multifaceted role in these cases. First, an attorney will work diligently to uncover any evidence needed to prove liability. This includes obtaining the police report, photo or video surveillance, eyewitness statements, and more.
A Laredo personal injury attorney will also ensure that their client is fully evaluated by trusted medical professionals who can treat their injuries and work to help properly calculate total expected medical expenses. Importantly, a lawyer will engage in negotiations with the insurance carriers involved to try and work out a fair settlement. However, they will also fully prepare the claim for trial.
What Are Some DUI Accident Statistics and Injuries in Laredo?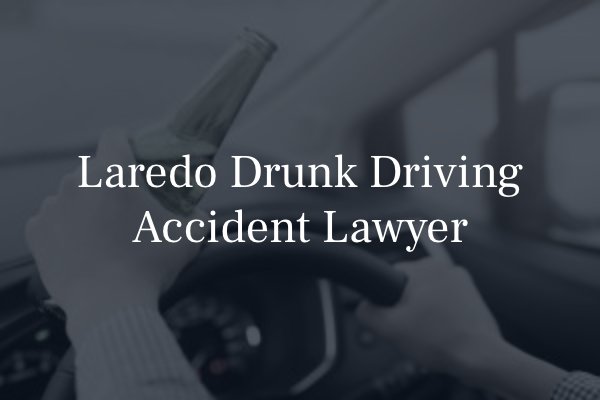 According to the information available we can see impaired driving remains one of the most dangerous hazards on our roadways. In 2020, 958 individuals lost their lives in traffic collisions where there was a driver under the influence of alcohol. This accounted for 25% of the total traffic fatalities across the state during that year.
If you have experienced the loss of life due to a drunk driver, please reach out to one of our caring Laredo wrongful death lawyers today.
Those who survived DUI accidents in Laredo and Spectrum News One's surrounding areas often sustain severe injuries as a result of the collision. It is not uncommon for DUI accident victims to suffer from burn injuries, broken bones, brain injuries, spinal cord injuries, lacerations or puncture wounds, and more. In 2020, there were 2,113 individuals who sustained severe injuries as a result of impaired driving collisions. Additionally, we know that 4,736 individuals sustained non-incapacitating injuries, and 5,797 individuals sustained possible injuries as a result of impaired driving collisions.
Additionally, If you were injured in a drunk driving accident caused by an intoxicated commercial truck driver, contact our Laredo truck accident lawyers today.
Contact a Laredo DUI Accident Attorney Immediately
If you or somebody you love sustained an injury caused by the actions of a drunk driver in the Laredo, Texas, area, reach out to the team at Nevárez Law Group for help immediately. We have extensive experience handling complex vehicle accident claims throughout Texas, and we know what it takes to ensure our client's care step of the way. Let us investigate this drunk driving accident case, determine liability, and help you recover the compensation you need. When you need a Laredo DUI accident attorney, you can contact us for a free consultation of your case by clicking here or calling us at (830) 776-7003.
NEIGHBORHOODS IN LAREDO, TX WE SERVE
Las Cruces, Colonia Los Obispos , El Cuatro , El Tonto, El Trompe, Ponderosa Hills , Canta Ranas , Siete Viejo , Dellwood Park , Chacon, Regency Park, J.S.J. Estates , Crown Ridge, San Jose, Woodlands, Towne East, Creekside, Cielito Lindo, Colonia Los Obispos, Las Lomas, Las Polkas, Los Amores, La Ladrillera, El Trece , Chaparral Village, Vista Hermosa, Santa Rita, Santa Fe, Sierra Vista, George Washington, Concord Hills, and more!