Laredo Truck Accident Attorney
Commercial vehicle accidents regularly lead to severe injuries and extensive property damage for those inside traditional passenger cars. Unfortunately, individuals often struggle to receive compensation in these situations. At Nevárez Law Group, we are here to help if you need a Laredo accident attorney by your side. We understand the legal processes involved in these claims, and our goal is to determine liability so we can recover total compensation for your losses or those of your loved ones.
Laredo Truck Accident Resources
Why Choose Nevárez Law Group for Your Laredo Truck Accident Claim?
At Nevárez Law Group, we have more than 20 years of commercial vehicle experience under our belts, and we have recovered billions of dollars in compensation for our clients.
Our Laredo truck accident attorneys have reviewed countless documents, tests, expert reports, depositions, and trial testimony in our efforts to ensure that commercial vehicle drivers are held accountable for their actions.
Our law office handles truck driver accident cases on a contingency fee basis. This means that crash victims will not have to pay a dime in legal fees until they have the financial recovery they are entitled to.
How Will An Attorney Help with A Truck Accident Claim in Laredo?
Truck accidents in Laredo can be overwhelming, particularly when the insurance carriers start calling. However, when you have an attorney by your side, you will have an advocate who can use their resources to handle every aspect of the claim on your behalf. This includes getting involved immediately to uncover all evidence needed to prove the liability of big rigs such as:
Photographs of the commercial vehicle accident were taken at the scene
Video surveillance from nearby buildings or dashcams
The trucking driver used an electronic logging device
The truck company's electronic control module
The truck company driver safety and training records
The truck company inspection and maintenance records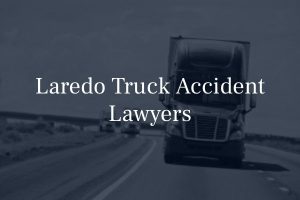 A truck accident lawyer in Laredo will also ensure that their client is evaluated by trusted medical professionals who can provide an estimate of current and future expected medical bills.
How To Prove Negligence Following A Laredo Truck Accident
Determining fault in the aftermath of commercial truck accidents in Laredo can be incredibly challenging, especially an insurance company is involved. Just like any other type of vehicle accident that occurs in Texas, it is crucial to conduct a complete investigation. This investigation begins right after the truck accident occurs.
Gathering evidence is the linchpin of a successful truck accident claim. Some of the main types of evidence that could affect a case that can be gathered at the scene of the big rig crash include the following:
Contact information and statements from eyewitnesses

Contact information and statements of other drivers and passengers involved

Photographs are taken using cell phones at the scene of the crash 

Video surveillance from cameras inside of vehicles or on nearby homes or businesses

The police report
Due to the very nature of accidents involving large commercial trucks, our law firm will not stop once the scene is cleared and justice is served. Attorneys will need to get involved to obtain the following in order to conduct a complete investigation into a liability:
The truck's electronic control module

The truck driver's electronic logging device

The truck company's driver training records

The truck company's inspection and maintenance records
In some cases, it may be necessary to work with a skilled accident reconstruction expert who can use the evidence gathered and construct 3D computer models to show insurance carriers and potential juries what likely happened.
Who Can be Held Liable For A Laredo Truck Accident?
There may be various parties who can be held liable in the aftermath of a commercial vehicle accident in Laredo. First, it is crucial to point out that, just like any other type of vehicle accident, any driver involved could be at fault for the incident. This includes the passenger vehicle driver. However, these incidents often boil down to the fault of the truck driver or trucking companies.
In addition to a truck driver or trucking company, there may be other parties involved in the entire operation of a commercial truck that could be held responsible for these incidents. This includes, but is not limited to, the following:
Third parties responsible for loading cargo

Maintenance personnel responsible for repairing or inspecting the vehicle

State or federal regulatory agencies and personnel

The trucking companies manufacturer of the truck or individual parts on the truck
Will Partial Fault Affect My Laredo Truck Accident Settlement?
Not all accident cases are straightforward, and there are times when more than one party could be at fault for the incident. In Texas, this situation is handled by a "modified comparative negligence" standard. This means that a person can recover compensation even if they are partially at fault for an accident, but Texas operates under the 51% bar. Anyone more than 50% responsible for the incident (51% and up) will be unable to recover any compensation.
However, any person 50% or less responsible for the incident can still recover compensation, though the total amount will be reduced based on their percentage of fault. For example, suppose a person is involved in a truck accident and sustains $100,000 worth of medical bills and property damage expenses. Now, let us imagine that a jury finds that they were 20% responsible because of equipment failure on their own vehicle. In this scenario, the individual would receive $80,000 instead of the total $100,000 to account for their percentage of fault.
What Are The Most Common Commerical Truck Accident Injuries In Laredo?
Accident statistics presented by the Federal Motor Carrier Safety Administration (FMCSA) show that there were more than 500,000 total police-reported crashes involving large trucks during the latest reporting year across this country. Out of these incidents, there were 4,479 total fatal crashes and approximately 114,000 injury crashes.
Unfortunately, truck accident cases involving these vehicles often result in severe injuries for those inside traditional passenger vehicles as well as pedestrians, bicyclists, and those in other non-motorized vehicles. Large commercial trucks can weigh up to 80,000 pounds when they are fully loaded with cargo, and this weight discrepancy between trucks and other vehicles is a recipe for disaster, resulting in worse injuries than regular car accidents. Speak to our Laredo car accident attorneys to learn more.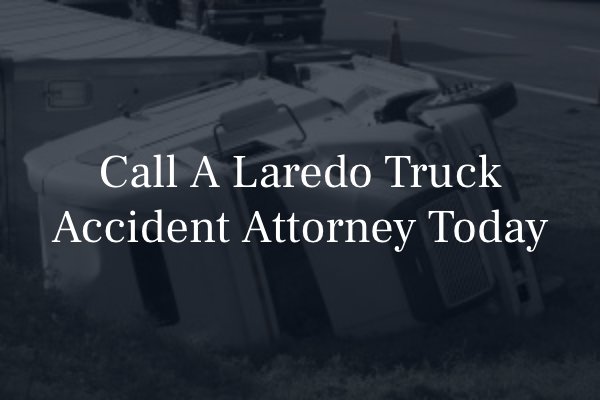 Some of the most common types of injuries that our law office help clients with after a large truck crash occurs include:
Fractured bones
Internal bleeding and organ damage
Scarring and disfigurement
Crush injuries or amputations
If a death resulted from an accident with a truck, don't hesitate to reach out to our Laredo wrongful death attorneys.
What Are The Common Causes Of Truck Accidents In Laredo?
There are more than 3,000 deaths and more than 30,000 injuries resulting from big rigs and other commercial vehicles every year. It takes experience and resources to maximize recovery for your clients from a major trucking corporation. Most trucking accidents are caused by factors such as:
Rear-End, Head-On Crashes, and Jackknives
Poor Maintenance, Including Tires and Brakes
Driver Fatigue
Unsecured Loads
Aggressive Driving
Lack of Reflectors and Poor Visibility
What If The Laredo Truck Driver Is Inexperienced?
Too often trucking companies hire inexperienced and unqualified operators that are dangerous to the driving public and their loved ones. Even qualified truck drivers get fatigued by the long hours and many thousands of miles required by most trucking companies. These companies must be held accountable when they cut corners on training, maintenance, and safety. Countless automobile drivers are injured or killed each year when truck drivers are negligent or their equipment fails.
Safety equipment, such as underride guards designed to protect smaller vehicles in the event of a rear-end collision with a semi-truck, must be robust and maintained properly to adequately protect the driving public. Reflectors and proper lighting are important to these trucks for the protection of the motoring public. Similar situations are also applicable to bus accidents, which our Laredo bus accident attorneys can help explain in further detail.
What Compensation Can You Receive For A Laredo Truck Accident Claim?
At Nevárez Law Group, our Laredo injury lawyers recognize that there are various types of compensation that truck accident victims should be able to receive in these cases. If an individual sustains an injury caused by the negligence of a truck driver or trucking company, we want to make sure that they recover total compensation for their losses. This includes various "general damages" and "special damages."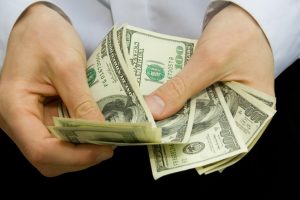 Special damages: These are also referred to as economic losses that individuals are likely to sustain in the aftermath of a truck accident in Laredo. Usually, an injury victim and their attorney will be able to gather up all bills and receipts related to the accident to properly calculate special damages:

Medical bills
Prescription medications and medical devices
Physical therapy and rehabilitation
Lost wages
Out-of-pocket expenses
Property damage expenses

General damages: These are also referred to as non-economic losses that an individual is likely to sustain following a truck accident. These types of damages are not as easily calculable. There may not be bills or receipts that can adequately calculate a person's physical or emotional pain and suffering. However, an attorney can use a multiplier method to adequately calculate these costs. This will involve adding up all of the special damages and then multiplying that by a set number to arrive at an adequate dollar figure for these more immeasurable losses.
There is no set amount of money available to truck accident victims in Laredo. Rather, there are various factors that will be taken into account when working to ensure a person receives fair compensation for their losses.
What Is The Time Limit for Filing a Laredo Truck Accident Claim?
Truck accident injury victims need to be aware that there is a limited amount of time to file these claims in Laredo. Here, we have to follow the Texas personal injury statute of limitations, which is two years from the date an injury occurs. Failing to file a lawsuit against a negligent truck driver or trucking company within this two-year timeframe will likely result in crash victims becoming unable to recover the compensation they are entitled to.
More importantly, it is crucial to understand that the insurance carriers involved in these claims have strict reporting deadlines. Often, this means that a crash has to be reported within a day or two after the incident occurs. We strongly encourage you to work with a skilled Laredo truck accident lawyer who can get involved in your case very quickly and file claims promptly so that you recover the compensation you need.
Contact a Laredo Truck Accident Attorney Immediately
If you or somebody you love has been injured in an accident caused by the negligence of a truck driver or trucking company in the Laredo area, reach out to the team at Nevárez Law Group for assistance immediately. Our law firm has the resources necessary to fully investigate every aspect of these claims, and we believe and recovering total compensation for our clients. against the trucking industry. We have no problem standing up to aggressive insurance companies, and we will take the case all the way to trial if necessary. When you need a Laredo truck accident attorney, you can contact us for a free consultation of your case by clicking here or calling us at (830) 776-7003.
NEIGHBORHOODS IN LAREDO, TX WE SERVE
Las Cruces, Colonia Los Obispos , El Cuatro , El Tonto, El Trompe, Ponderosa Hills , Canta Ranas , Siete Viejo , Dellwood Park , Chacon, Regency Park, J.S.J. Estates , Crown Ridge, San Jose, Woodlands, Towne East, Creekside, Cielito Lindo, Colonia Los Obispos, Las Lomas, Las Polkas, Los Amores, La Ladrillera, El Trece , Chaparral Village, Vista Hermosa, Santa Rita, Santa Fe, Sierra Vista, George Washington, Concord Hills, and more!