Laredo Workplace Accident Attorney
Accidents in the workplace can lead to significant financial setbacks for workers and their family members. At Nevárez Law Group, our team is here to help when you need a Laredo workplace injury attorney by your side. We have handled a wide variety of injury cases throughout the state of Texas, and we understand how to recover maximum compensation on behalf of those who sustain on-the-job injuries.
Nevárez Law Group has litigated a wide variety of product defects and injury-producing events with substantial recoveries for our clients. Whatever the cause of injury, we have the ability to maximize the recovery for our clients.
Why Choose Nevárez Law Group for Your Laredo Workplace Injury Claim?
At Nevárez Law Group, we have no problem going head-to-head with insurance carriers or companies to ensure that our clients recover full compensation for their losses.
We were founded on the belief that every client deserves to have their case handled with personal attention and integrity.
Our Laredo truck accident lawyers, personal injury attorneys, and more take workplace injury claims on a contingency fee basis. This means that you will not owe upfront or out-of-pocket costs, and you will pay no legal fees until after the compensation you need.
How Will a Laredo Attorney Help With a Workplace Injury Claim?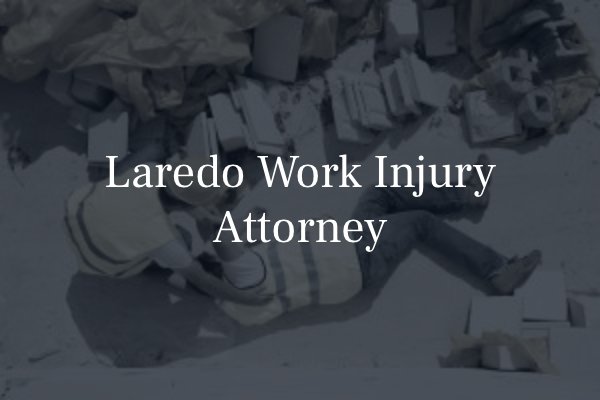 Workplace injury claims, particularly those caused by a third party, become very challenging. That is because these cases involve determining liability. Much like other types of personal injury claims, it is crucial for those involved to have an attorney who can fully investigate the incident.
An injury lawyer in Laredo will also ensure that their client receives a full evaluation from trusted medical experts who can treat the injuries and help calculate current and future expected medical expenses. Not only will the attorney ensure that you receive the compensation owed to you through the workers' comp system, but they will fully explore a personal injury lawsuit against the at-fault party to help you receive additional compensation.
Third-Party Workplace Injuries Versus Workers' Comp Claims
It is crucial that we explain the difference between workers' compensation claims and third-party workplace injury lawsuits. Anytime an individual sustains a workplace injury, they will usually be eligible to recover money through the workers' compensation system in Texas. This is a "no-fault" system, which means that individuals can recover compensation regardless of who caused the injury.
Third-party work injury claims can arise anytime a party aside from the employer causes the injury. Some of the most common parties that face lawsuits in these circumstances include product manufacturers, property owners, and drivers of other vehicles. Third-party work injury claims are essentially personal injury lawsuits filed in civil court, and they will be handled like every other personal injury claim that occurs in the state. In these cases, the injury victim and their attorney will have to prove the negligence of a third party in order to successfully recover compensation. This is different from the no-fault system, and compensation is not necessarily guaranteed.
Most Common Causes of Workplace Injuries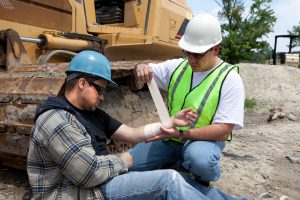 Workplace injuries can arise in a wide variety of ways. It is important to point out that injuries can occur in any type of workspace. Yes, there are certainly some industries that are riskier than others, such as construction and manufacturing. However, individuals who work in seemingly safe office places can also sustain injuries. Some of the most common causes of injuries in the workplace include:
Slip and fall accidents
Falling from heights
Electrocution
Overexertion
Getting struck by objects
Getting caught in between objects
Repetitive motion injuries
Workplace violence
In some instances, these causes can result in severe injuries, in which a Laredo brain injury attorney or even a wrongful death lawyer may be needed. Nevertheless, regardless of how your workplace injury occurs, we want to hear about your claim and explore all routes toward pursuing compensation.
What can Compensation be for Workplace Injuries?
When a person sustains a workplace injury, they should be able to receive various types of compensation for their losses. In a traditional workers' compensation claim, injury victims will be able to receive full coverage of their medical bills and a portion of their lost wages. Additionally, individuals may be eligible for various types of short or long-term disability payments.
When an individual files a third-party lawsuit and is successful, they will likely be able to recover additional types of compensation above and beyond what they would have received through a workers' compensation claim. We have helped work injury victims recover the following types of compensation as a result of third-party claims:
Coverage of all medical bills
Complete coverage of lost wages
Property damage expenses
Compensation for pain and suffering losses
There is no set amount of money paid out for these claims. Rather, the total amount of compensation awarded for a third-party work injury claim will vary depending on several factors, such as the severity of the injury, the amount of time away from work, and whether or not there are any long-term disabilities.
When do You Have to File a Third-Party Work Injury Claim?
We understand that there are very strict deadlines when it comes to filing a work injury claim for the purposes of workers' compensation in Texas. However, if your injury was caused by the actions of a third party in the workplace, you need to follow the personal injury statute of limitations for the state of Texas. This means that your claim must be filed within two years from the date an injury occurs. Failing to file a lawsuit within this timeframe will likely result in you being unable to recover the compensation you are entitled to.
Contact a Laredo Workplace Injury Attorney Today
If you or somebody you love has sustained an injury in the workplace but is having trouble recovering compensation, reach out to the team at Nevárez Law Group for help immediately. Even if you were injured while driving for work, our Laredo accident lawyers have the resources necessary to investigate third-party work injury cases fully, and our goal is to make sure that clients recover total compensation for their losses. This includes coverage of medical bills, lost wages, and pain and suffering damages. When you need a Laredo workplace injury attorney, you can contact us for a free consultation of your case by clicking here or calling us at (830) 776-7003.
NEIGHBORHOODS IN LAREDO, TX WE SERVE
Las Cruces, Colonia Los Obispos , El Cuatro , El Tonto, El Trompe, Ponderosa Hills , Canta Ranas , Siete Viejo , Dellwood Park , Chacon, Regency Park, J.S.J. Estates , Crown Ridge, San Jose, Woodlands, Towne East, Creekside, Cielito Lindo, Colonia Los Obispos, Las Lomas, Las Polkas, Los Amores, La Ladrillera, El Trece , Chaparral Village, Vista Hermosa, Santa Rita, Santa Fe, Sierra Vista, George Washington, Concord Hills, and more!